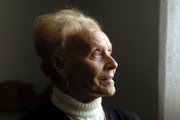 For the first time in 21 years, Emma Estrada is not teaching yoga at weekly classes through Lawrence Parks and Recreation.
The 82-year-old Lawrence resident who grew up in Antwerp, Belgium, retired from leading several exercise classes in December.
"It's so nice to bring something to the people that I have experienced in life," Estrada said this week while showing off her trophy from the Parks and Recreation Department.
Her husband, Frank, who grew up in Eudora, met her while he served in the Army and after three decades of living in Europe, they returned to Lawrence in 1981 and have lived here ever since.
"I was so busy that I couldn't support the sports of my granddaughters any more," Emma Estrada said of her decision to end her yoga-teaching days. "I was kind of missing out on some other things, and I thought, well, now there are all of the people here to take over the yoga. So this is the first time I am free."
Emma is relieved to have more time to read and spend with her family, but says missing the interaction with students is an adjustment.
But at home, Emma and Frank still participate in daily yoga and meditation exercises in the morning and early afternoon.
"In the afternoon, I just sit down on the floor and do my leg exercises because those go away right away, you know? Those legs, you have to keep them alert. Keep everything alert," Emma said.
You lived with your family in France, Germany and Spain before coming back to Kansas in 1981. When did you begin practicing yoga?
I started at the age of 45. We were living in Germany.
I had one young boy, Daniel. He died on us. It was by accident. He had asthma, and some way or another I ran across a yoga book, and it says it had some good things in there that were special exercises and breathing exercises. I like the philosophy.
Emma Estrada
Age: 82. Family: Husband, Frank; two sons, Mario and Jeff, both of Minorca, a Balearic island in Spain; two daughters, Emelia Drehman, of Iowa, and Anita Carlson, of Lawrence; seven grandchildren; and three great-grandchildren. Grew up: Antwerp, Belgium; met husband while he served in the Army. They married in Kansas and then spent 30 years in France, Germany and Spain before moving to Lawrence in 1981.
I had a few teachers. My main teacher was from Belgium. It's good to have many teachers to take out a few things that so many taught you.
What are yoga's benefits?
You don't become perfect, but you maintain your body in good physical condition. And then if something happens, it has a better possibility of recuperating.
Have you been mostly healthy?
I'm 82 years old. You're going to suffer some things or another but, like I said, there are places in your body that suffer. The ones in your body that are good, they support it. So you overcome all of those things much easier.
When you moved to Lawrence, why did you decide to continue teaching yoga?
I taught in Germany, and I taught in Spain. Yes, because it's something good, you know? Now they teach yoga for the knees, for the back. I didn't separate it. I taught if the back hurts, everything else hurts. So I taught complete Hata yoga without fragmenting it.
What do you enjoy most about living in Lawrence?
If you find happiness within, then it doesn't matter where you live. Everything around is OK. We like (Lawrence). It's a nice city.
I like all of it. I like the people because they give me my privacy. They leave me alone. This is something very important to me. They are all very nice, very nice. Sometimes I'm surprised at how nice they are.
- If you know someone who should be featured in the "Do You Know?" column, contact staff writer George Diepenbrock at 832-7144.
Copyright 2018 The Lawrence Journal-World. All rights reserved. This material may not be published, broadcast, rewritten or redistributed. We strive to uphold our values for every story published.