Neva Merriman doesn't always find a steady amount of canned goods and food to pick from while stocking baskets for families in need at the Ballard Community Center, 807 Elm St.
She volunteers there once per week.
"When there's enough food, the job is fun. When there isn't enough food and I can't make up a package that allows a family to make several meals, it gets a little stressful," said the retired psychologist, who moved to Lawrence from Hays in 2000.
Merriman fills the baskets with cereal, tuna and canned items for families, who may be in need of emergency food items to fill their tables while they wait for a paycheck or more resources.
Merriman has volunteered there for four years after she found the opportunity through the Roger Hill Volunteer Center.
Describe what you do at the Ballard Community Center.
On Tuesday mornings, I come in at 8:30, and depending on how many packages are needed, I make sure there are 25 packages when I leave here. Right now, we have no cereal. We have no meat. We're about down to bare bones right now. People are most generous around Christmas and of course when the postmen have their food drive (in the spring).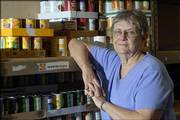 But we just need it on an ongoing, week-in, week-out basis.
What makes this job important?
I come from a service-oriented background, and I feel like if you live in a community and if you are going to take from that community, you need to be giving something back. And what I do is simply make it easier for other people to do their jobs here.
How did you end up in Lawrence from Hays?
My husband (William) died, almost eight years ago, and I concluded that I either needed to stay there until health forced me to make a move, or go ahead and make a move to start over. That proved to be a really good decision because I have been able to start over.
What is your favorite thing about living in Lawrence?
I think that it was relatively easy for me to make a place for myself here. I haven't run into people who took the attitude that you haven't lived here all of your life, so you don't fit. So that, and I think a kind of political liberalism that suits me: Kind of let people be who they are.
Audio Clips
Neva Merriman
What is Lawrence's most critical issue?
Certainly one of the big issues is homelessness. It's a tough issue. There are moments when I think that we've got to be doing more for them, and there are moments when I think we may be doing things that are not helpful. I'm not even close to having resolved that issue for myself.
How would you address homelessness?
There needs to be a way to get at the problem earlier, so that people do not become habituated to being homeless. Then there needs to be ways to motivate them some way to want to change that status. And then of course there'd have to be available services. The issue is so complex.
What is a major issue for the Ballard Community Center?
I think the people in Lawrence are very generous, but it's much easier to focus on a front-page story about an individual who has been in an accident or has an illness or has a need because that person has a name and a face.
Here it's just kind of low-income families, and people tend to forget that it's an ongoing, everyday issue here.
Neva Merriman
Moved to Lawrence: 2000. Education: Bachelor's degree in psychology from St. Mary of the Plains College in Dodge City; master's degree in psychology from Fort Hays State University. Profession: Psychologist and psychotherapist at High Plains Mental Health Center in Hays, now retired. Volunteer work and hobbies: Food basket stuffer at the Ballard Community Center in Lawrence for four years; receptionist at First Methodist Church; amateur writing group; spending time with family and friends. Family: Husband, William, died about eight years ago; daughters, Sarah Merriman, Lawrence, and Joy Trollman, Winfield; sons, Brian, Shawnee, and Dick, Andover.
Copyright 2018 The Lawrence Journal-World. All rights reserved. This material may not be published, broadcast, rewritten or redistributed. We strive to uphold our values for every story published.