Kansas University junior Christopher Reine has had fun during his first few months as president of the Black Student Union on campus.
Being good friends with members of BSU's executive board, including senior Cherie Moose and freshman Jordan Brown, has made things easier, Reine said.
"This year I've tried to do something different. The only way it's going to work is if we are going to be as cohesive and really respect each other," said Reine, who came to KU from Kansas City, Mo., to study psychology.
The organization provides activities and a social outlet for its members, mostly black students, but it is open to all KU students.
Members of BSU's executive board also participate in an annual conference with representatives from other Big 12 schools to discuss issues.
At KU, the BSU's members - about 75 on campus - and adviser Pamela Scott are instrumental in organizing events during Black History Month every February.
What is the Black Student Union's basic mission?
Christopher Reine: It's an organization for anybody. It's open to anybody to join, and our goal is to show the positives of African Americans through several forums that we have, whether it's social, political or educational. In each meeting, we bring in an outside source or someone from KU to talk about different services that the students can utilize.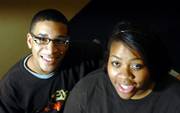 What are some newer things BSU is doing this year?
Cherie Moose: We had a Black Student Union Week the first week of school. We had a back-to-school week where we did community services projects and had a barbecue.
An annual event that we do is the Black Leadership Symposium. We also have a monthly community service project. We have done a "Sing and Serve" at the Lawrence Drop-in Center. We sing for people that stay overnight. That's been pretty rewarding for us. We enjoy it, and they enjoy us coming in and talking to them and getting some nice home-cooked meals.
What is the BSU's Freshman Action Team?
Jordan Brown: Our goal is to improve freshman retention rates, and what we've been trying to do is encourage improvement of study habits. We have had study hours where we dedicate time to just helping each other in our academics, as well as handing out pamphlets across the campus that show people the correct way to study.
Also, we have had social events in an effort to try to strengthen the freshman class, kind of like we have a family - a support system away from home.
Why have you all enjoyed participating in the BSU?
Christopher Reine: For me it's networking. There are so many people involved and so many people helping with it. I can get a lot of my resources just from that. Also just helping me as an individual grow as a person. It's helped me become more outgoing.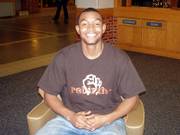 Jordan Brown: It's a comfortable environment. For me, it's just a breath of fresh air when I get to be around other positive individuals who I can relate to.
Cherie Moose: For me, it's also leadership skills. That is something that you really can't learn in the classroom. I think that will help us all later in life.
What do you consider to be the most important issues facing the BSU now?
Christopher Reine: I'd say one thing is the BSU's annual homecoming king and queen and recognizing them as part of the university.
Cherie Moose: I would like to see more athletes involved (in BSU meetings) because athletics can only take you so far. You need to have other things to fall back on.
Copyright 2018 The Lawrence Journal-World. All rights reserved. This material may not be published, broadcast, rewritten or redistributed. We strive to uphold our values for every story published.