He's an artist in a bookstore.
Or is it a textbook manager who likes to paint?
In 1983, Mike Lickteig graduated from Kansas University with a painting degree.
He wanted his first job to help pay the bills as he would perhaps spring onto the scene as a famous artist.
Lickteig started with KU Bookstores on campus, and he worked his way into various jobs, including a clerk and supervisor at the Burge Union store. He also was an assistant buyer of art supplies and textbook manager for the last nine years.
The lifelong Lawrence resident recently decided it was time for a change, and he started more than a week ago as textbook manager at University Book Shop, 1116 W. 23rd St. He still paints as a hobby.
In 23 years, his college major and his retail career have intersected a little. He says every year at KU Bookstores, he would go for a shot at redesigning the Jayhawk.
"Nobody would ever let me do that, but I would ask every year - which is blasphemy," Lickteig said.
How did you end up in the bookstore business?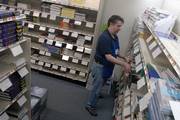 I'm sure it's the same story for a lot of college students. They have the art degree and are looking for a place to use it. Oh, I'll go sell art supplies. That's what I did as a sales clerk at the Burge Union, and because of my affinity for it, I eventually became the art supply buyer, and I got to try out products.
It was a nice way to keep your hand in it even though you were doing something else. That's kind of how I segued into that. Going to textbooks was basically based on need.
Why have you stayed in the business?
I like being around the younger people. It makes me feel not quite so old if I'm in there talking with them. It gives me some variety to my day. One thing that I do like about retail is that every day really is a different story. And that's what's kept me in it is the interactions with the people.
Why change jobs after 23 years?
Mike Lickteig
Job: New textbook manager, University Book Shop, 1116 W. 23rd St.; 23-year employee of KU Bookstores. Family: Parents, Henry and Ruby Lickteig. Lived in Lawrence: All his life. Education: Bachelor's degree in painting from Kansas University, 1983. Hobbies and activities: Oil and acrylic painting; writing office training manuals; playing basketball; eating at restaurants with friends. Favorite Lawrence restaurant: The Mad Greek, 907 Mass.
There was a sense of sameness to what I was doing there. I had reached a point where I began to feel like instead of having eight or nine years (as the textbook manager), I was having one year's experience nine times.
At a smaller store like this, there's more of an opportunity to do like what I was doing at the Burge Union store, where you might help out at the cash register or pick up a delivery. I've already done some things at a week here that I'd never done in nine years in textbooks over there. That's not a knock on the way they set things up, it was just they were bigger, and so things were divided up more.
What is the most important issue in the retail bookstore industry?
The one that hits everybody the hardest is always going to be the price of textbooks. I was there for the first $100 textbook and almost didn't want to put it out on the shelf.
It jeopardizes people's ability to go to college. It's a tough one to solve. Being in a college bookstore, the only real mechanism we have to solve it is: Buy back used textbooks and get as many used books as we can. That's the only thing that we have to offer as a hedge against that.
What do you enjoy most about living in Lawrence?
I think Lawrence has some of the best qualities of both big cities and small towns. I'm probably more small-town by heart. But it's not just proximity to Kansas City or anything like that. Lawrence has most of what I need. They've got lots of good restaurants. They've got enough good shopping. You can buy theater tickets. KU's a big part of it. KU adds to the culture of the city quite a bit.
What is the most critical current Lawrence issue?
I agree with most of the people in Lawrence that the roads need to be improved, and I'm not a big fan of the roundabouts.
Copyright 2018 The Lawrence Journal-World. All rights reserved. This material may not be published, broadcast, rewritten or redistributed. We strive to uphold our values for every story published.