About 20 senior citizens have given themselves enough space across a room at the First Baptist Church, 1330 Kasold Drive.
At least two are older than 90, but they are ready for some exercise as part of Personal Actions To Health.
The twice-weekly exercise classes at two locations in Lawrence are an extension of a nutrition course offered in cooperation with the K-State Research and Extension and Kansas Health Foundation.
At First Baptist, the group's four leaders, Rachel and Frank Purvis and Margaret and Harold Jones, distribute large rubber bands that stretch and give resistance like weights.
The exercise group has already completed 30 minutes of stretching, bending and other exercises to help their flexibility.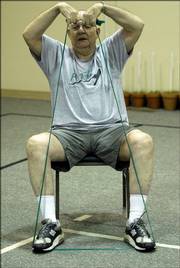 The session is open to anyone older than 55 who has completed the eight-week PATH course on nutrition and health that begins each year in February.
The Purvises and Joneses became active in PATH a few years ago, and they have led the First Baptist group since 2003.
What is the benefit to PATH exercise sessions?
Harold Jones: I've heard several people who say, "I didn't even bend over and pick up the soap when it fell in the shower before I started doing these exercises."
Frank Purvis: You just get out of shape because you don't do that sort of thing. People in PATH are just walking better and moving better.
Margaret Jones: They have been very conscious about continuing. One of the values, I think, was the opportunity to meet the people we taught and meet others.
Frank and Rachel Purvis
Moved in 1961 to Lawrence from Baldwin. Rachel worked at Kansas University for 24 years in office management. Frank taught music at Central and South junior high schools until he retired in 1993. They have led a PATH exercise group twice per week with Harold and Margaret Jones since 2003.
Frank Purvis: It's kind of a big, caring family. We share with each other.
How did you four become friends?
Harold Jones: We met in the church choir at First United Methodist Church.
Frank Purvis: We've been real good friends since soon after we became leaders. We do a lot of things together.
Harold Jones: We've traveled together - taken some great trips together.
Have you noticed improvements in your health and others in your PATH group?
Harold Jones: I have a personal interest in the program because I'm sure I wouldn't do (exercise) at home if it wasn't for PATH.
Frank Purvis: It's been a good thing. Several people, including myself, have had injuries. I felt like I recovered faster because I was in better shape because of the class.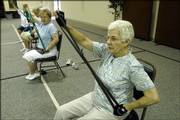 Rachel Purvis: It's really an enjoyable way to exercise and keep yourself in shape and have a lot of fun fellowship at the same time.
Margaret Jones: I think we see it as a volunteer service.
Rachel Purvis: One of the people that works at the hospital for fitness feels like PATH is a really huge contribution in keeping people healthy and active in their own homes. Also, the group encourages each other - you know you are coming to go meet people.
Harold and Margaret Jones
Moved to Lawrence in 1990 from Redfield, S.D. They owned two weekly newspapers and retired in 1980. They both grew up in Osage City.
Harold Jones: We've got a treadmill, but when you go over there (to PATH), it's a way of getting it done.
Margaret Jones: It's a much more enjoyable way.
Rachel Purvis: It's really one of the best bargains in town - $15 for a lifetime membership. Anyone who has taken the PATH nutrition course can come to either location, as long as they get a doctor's permit.
Copyright 2018 The Lawrence Journal-World. All rights reserved. This material may not be published, broadcast, rewritten or redistributed. We strive to uphold our values for every story published.