Charles R. "Bob" Snow is the friendly North Lawrence neighbor with plenty of stories to tell.
The 85-year-old sits almost daily outside his garage at 876 Oak St. He waves at people who walk or drive by. Some stop and chat.
"How are you doin'?" Snow yelled to a woman and her dog passing by on Friday.
Through the years, some of his friends have passed on. Snow and his wife, Margaret, are doing fine in their corner of the city.
For the lifelong North Lawrence residents, their marriage has spanned Bob's four-year U.S. Army stint in Europe during World War II, the Lawrence flood of 1951 and so many other stories that Bob can take his pick of what he wants to talk about.
"We've just lived a normal life," he said as he gave a tour of their home. "We don't have no cell phones or nothing like that."
This week, he wanted to talk about his time in the war from 1942 to 1946 as a surgical technician with the Army's 41st Evacuation Hospital after D-Day.
Shortly after he married Margaret, Bob was drafted and sent away for training.
Explain your job during the war after you were taken to Scotland on the Queen Mary ship.
With the 41st, I was with the surgeon, a major, an orthopedic doctor. I've never seen him since.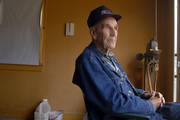 After the invasion at Omaha Beach, five to six days after, we had to wait in the foxholes, and the next morning the colonel wanted us to set up. We asked how far the front lines were, and he said just step out in the road - you'll see it.
We had everything we needed. We started right up. Then we went in and would take care of them from there.
It was a big outfit. We had four operating tables - two in this tent, two in the next tent.
What was the most difficult part of your job?
We had guys that died on our table. Those things kind of stir you up a little bit.
We did have a guy come in around noon (one day) in the hospital. He'd been shot in the shoulder. He was from Oklahoma. I talked to him a little bit. After his surgery, he started to cough, and he wasn't awake.
I said we've got to do something because this guy's coughing bad. What happened was we had found out that he had eaten dinner before he came in, and he shouldn't have done it.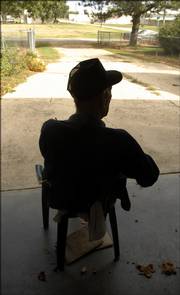 I got a tracheotomy set to cut his throat. We put that in there, but he died. I felt like I had known him a long time, and I didn't know him but five or six hours. He said he had been to the ball games up in Lawrence.
When you returned to Lawrence in 1946, you got your job back as a firefighter. What was your next career move?
The FMC plant (in North Lawrence) was getting ready to start up. When I put my application in, they hired me. I went to work up there as a dryer operator. I stayed there for two years, and they promoted me to management. I worked in warehouse, and later I became a shift supervisor. I stayed there until 1983 after 32 years.
I always treated the boys just like I'd like to be treated - no different.
Your home and property borders the Kansas River. How badly did the flood damage everything?
Not too bad because it didn't stay up that long. There was some mud, and the basement was full. Some guy came to pump it out and didn't charge us. We did all kinds of stuff just a little bit at a time.
How has Lawrence changed in your lifetime?
Traffic's pretty bad. Other people are probably used to it. For me, it's a different story. We just don't like to get out in traffic. There used to be 11 (grocery stores) in North Lawrence. I show people where all of these stores were sometimes. We need a store real bad. If you want a gallon of milk, you have to drive over the river.
But I never lived anywhere else outside of in the service. This is a good place, with good neighbors. I like to sit out here, and see the people come by. Without people, you'd be in a world of trouble.
Charles Snow
Age: 85 Born: In North Lawrence and has lived at his home, 876 Oak St., since 1946 when he returned from World War II service. Family: Wife, Margaret, married in 1942; daughter, Janice Prager, Lawrence; son, Charles Jr., killed in a car accident when he was 28 years old; four grandchildren. Career: A U.S. Army staff sergeant, served as a surgical technician with the 41st Evacuation Hospital in Europe during World War II for four years and earned four Bronze Stars; worked as a Lawrence firefighter before and after the war; and then worked at the FMC plant (now Astaris, 440 N. Ninth St.) in North Lawrence from 1951 to 1983. Also known for: Waving at his neighbors in North Lawrence as he sits outside his garage and his fruit and vegetable truck farming in the 1970s.
Copyright 2018 The Lawrence Journal-World. All rights reserved. This material may not be published, broadcast, rewritten or redistributed. We strive to uphold our values for every story published.