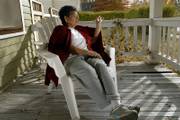 When east Lawrence voters head Tuesday to their precinct polling site at New York School, they will see a familiar face.
"I've been helping at the polls there since Eisenhower was elected," said 80-year-old Virginia Romero.
Romero recalled that 1952 landslide victory for the Kansan. That day, she said, she counted votes until early the next morning.
Until the August primary election, Romero hadn't missed a Lawrence election.
She had triple-bypass surgery in May, and she recently injured her shoulder and knee during a fall.
But she's ready to return to her place at New York School for Tuesday's general election as a supervising judge.
Romero and her husband, Ramon, were longtime east Lawrence residents until they moved southeast of Lawrence 10 years ago.
Describe your job during the 1952 general election.
We started at 6 o'clock on Election Day, and I worked on the counting board. We counted and counted and counted until 9 o'clock the next morning. I didn't quite finish because I had a baby sitter watching my kids, and so I had to say, "Hey, I've got to go."
It was a landslide for Eisenhower. I just got tired of counting 1, 2, 3, tally. 1, 2, 3, tally. We would take turns. One of us would count, and the other would take the ballots out of the boxes and straighten them out.
Why do you keep working at the polls?
I just like to do it for my party (Democratic Party), and I like to do it to see the people who come in.
What has been the most unusual thing you have seen?
I had one guy working there one time - I don't know who picked him out - but he wasn't all there. And so I had to take him home because he just wasn't doing it right.
Have there been any major controversies?
Not really. It goes on pretty smooth. I like it at the school because I know a lot of the people that come in there because I've been around this neighborhood for 60 years.
Virginia Romero
Election supervising judge at New York School and poll worker since 1952. Age: 80. Family: Husband, Ramon; two daughters, Judy Romero, 59, Lawrence, and Lupe Romero-Kosa, 52, Shawnee; three sons, Ramon Jr., 56, San Francisco, Antonio, 54, Pacifica, Calif., and Michael, 44, Lawrence. Hometown: Born in Rossville and grew up in Williamstown; moved to Lawrence in 1943. Jobs: Former liquor store owner; worked in laundry shops, restaurants and hotels; and helped manage family properties.
What are the major differences in the voting process since you started working?
This is the first time I'm going to work with those (counting) machines. It kind of got me nervous, but I've been learning more about them. I hope it goes OK.
Explain what your job is on Tuesday.
I'm the supervising judge, so I've got to make sure that everything is ready to work. I turn that machine on. I have to get there at 6, pick up the supplies, and turn the machines on and get everything ready for the voters.
We have a book that they have to check the names and sign their name and make sure they are registered.
Who is your favorite elected official?
Kennedy. He was just a friendly president, just trying to do good for his country.
Have you noticed a difference in political campaigns over the years?
Now it's just different. It's kind of hard now because there's so much bad talk about all of these candidates. They should talk more about issues and not what is going on with their personal lives.
Why do you enjoy living in Lawrence?
It's a peaceful town, and I like my neighborhood. Except for the last 10 years out in the country, we've lived here - never had any problems.
I think the people - the people are just all real friendly.
Copyright 2018 The Lawrence Journal-World. All rights reserved. This material may not be published, broadcast, rewritten or redistributed. We strive to uphold our values for every story published.