Deron Belt, 33, became active with Big Brothers Big Sisters of Douglas County six years ago because he believed it was the right thing to do.
Since the first time he met his "little brother," Alex Brittain, then 7, their relationship has persevered and developed into a strong friendship.
From the early days, Belt strove to be a mentor. Today, the two are good friends. Alex is now 13 and an eighth-grader at Central Junior High School.
"When I first met him, he was not a very big guy, and now when I hang out with him, it's more of a friendship but still a mentoring relationship," Belt said.
When he's not volunteering and mentoring Alex, Belt is active in downtown Lawrence businesses. He's a face behind the counter at Great Harvest Bread Co., 807 Vt., and one of the owners and operators of Vermont Street BBQ, 728 Mass.
Belt considers his involvement with Big Brothers Big Sisters important. Of the current 213 unmatched children, 62 percent are boys, he said.
"So men are in dire need," Belt said.
How did you end up at the Great Harvest Bread Co. nine years ago?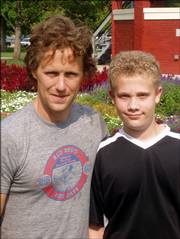 Sort of by default. When I was going to graduate school, I needed a job. I applied to Great Harvest and the Lawrence Bus Co. Great Harvest seemed like a better fit for my personality. I fulfill some managerial roles there in production and customer service and just overall facility operations.
You have an ancient history degree. When did you decide you should stay in the restaurant industry?
I didn't project myself doing it for as long as I have. When I stopped making plans and realizing what I was doing, it sort of became easier for me to do what I was doing and enjoy it. Instead of thinking of Lawrence as a pit stop, customer service has helped me empathize a little more with people.
Why did you decide to become a Big Brother?
Six years ago, I had a friend who introduced me to the concept. I thought it was great, and I applied for it. It just struck me one day that it was a good idea.
Deron Belt
Age: 33 Hometown: Lenexa; moved to Lawrence in 1995. Education: Bachelor's degree from Kansas University. Job: Employee at Great Harvest Bread Co., 807 Vt.; owner and operator for bookkeeping at Vermont Street BBQ, 728 Mass. Volunteer work: Mentoring a student, now in eighth grade, through Big Brothers Big Sisters of Douglas County since 2000. Most important Lawrence issue: "There's a lot of infighting between different groups in Lawrence, whether it be between the city, developers and neighborhood activists. "I think there needs to be better open lines of communication where each group will hear what the other wants to say."
I guess if I really wanted to cheese it up, I could say I felt compelled to serve my community, and this was one way to do it.
Describe your first meeting with Alex.
I was real nervous about the whole interaction. He lived at the time with his single mom, and she was just getting ready to have another baby.
I rode my bike there. I wore a stretching, heavy overcoat, and I'd never seen him before. We walked past each other. I followed him into the office and met the caseworker. He will always tell the story that he thought I looked like a homeless guy.
What has your relationship become?
It's sort of like hanging out with just a friend, and I just have to remember that I'm still trying to fulfill a mentor-role model position for him.
He's a smart kid, and he's engaging now. Sometimes it's hard to talk to a 7-year-old.
I see him hold doors open for people now. That's just a minute thing, but the point being that I've had an influence on his life.
You see him once every 10 days. What do you typically do?
Just spend time together. I'll drag him to do recycling, or we will go see a movie or go do something he wants to do.
What would you say to encourage potential volunteers in the program?
I think it gives people - in some cases it gives people hope. In other cases, it just gives people an opportunity that they might not see in a particular situation.
I think it's important to remember that our lives are bigger than ourselves. Learning to actively participate in the community makes you more a part of the community.
Copyright 2018 The Lawrence Journal-World. All rights reserved. This material may not be published, broadcast, rewritten or redistributed. We strive to uphold our values for every story published.