Amy Laughlin has persevered through three bouts with breast and liver cancer.
In January 1999, soon after she, her husband, G.R., and her mother, Carole McFarland, bought Second Chance Children's & Maternity Store, now at 847 Mass., doctors diagnosed Laughlin with liver cancer. She already had overcome breast cancer in 1996.
It made for some rough days at the store, which then was on Ninth Street.
"Sometimes I would go sit in the back room just to sit down, and there were a couple of times I would fall asleep," Laughlin said. "Most of my customers knew what was going on, and they would just sit there and watch the store for me. It was so nice. I have the world's best customers."
Now Laughlin is relatively healthy, and she says she has the world's best employees, including manager Diana Buchanan who reminds her: "There's life after diagnosis."
She had a recurrence one year ago, and doctors performed a liver resection. They removed the entire tumor, and now Laughlin undergoes maintenance chemotherapy.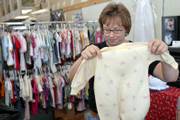 "I think I've come to the conclusion that it's probably going to be more of a chronic disease," Laughlin said.
How did you become interested in the store?
At the end of 1998, the owner, Julie Squires, got a call while I was shopping in the store. Her sister's car had broken down on Kansas Highway 10. She said: "I just know you from shopping here, but could you just keep an eye on the store while I go pick up my sister?"
I said sure. She was gone maybe an hour. She came back and I said I had always wanted to own a store. She said it was for sale.
What role do you see the store playing in the business community?
Amy Laughlin
Owner, Second Chance Children's & Maternity Store, 847 Mass. Family: Husband, G.R., works for Pizza Hut and is an ownership partner with the store; stepdaughter, Brittany, 18; son, Alex, 13; daughter, Emily, 9. Education: Topeka West High School; bachelor's degree, Cornell College, Mount Vernon, Iowa; graduate studies in music at Kansas University. Cancer survivor: Breast cancer and two bouts with liver cancer. Activities: Family events; Sunday school teacher at First Presbyterian Church, 2415 Clinton Parkway; Parent-Teacher Organization at Wakarusa Valley School.
I think it helps people that might not either have the money to buy real expensive stuff for their children or if they don't want to waste the money on it. It gives them another option that's locally owned, and it also recycles, especially now that the number of places that you can just donate to has decreased.
I know that we're looking at two months before we can get people in here, but it encourages them not to just hopefully throw stuff in the Dumpster.
Why do you enjoy living in Lawrence?
I love the people. This town is so diverse. It's a large enough town that you get a lot of cultural variety, but it's also small enough that generally, when you go some place - the grocery store or walking downtown - you are always going to see someone that you know.
What advice would you give to new mothers?
Probably just to remember to enjoy every stage of it - although with teenagers it's really hard. But because it's so quick, you blink and they are grown up - although it doesn't seem like that when they are screaming at 3 in the morning.
What advice would you give to someone diagnosed with breast cancer?
I would just say that there is no age that it can't hit you at. When I found my lump I said: "This is nothing. I'm too young. This is an old-ladies' disease." It's not.
I didn't think I would be here, and it's 10 years later. As far as I can tell, I'm not going to die of it in the next few months. You just have to keep trying to stay healthy. There's hope after diagnosis.
Copyright 2018 The Lawrence Journal-World. All rights reserved. This material may not be published, broadcast, rewritten or redistributed. We strive to uphold our values for every story published.