David, 90, and Margaret Shirk, 89, married Sept. 14, 1940, and they are the friendly neighbors who live just north of Lawrence.
In the last couple of years, they gave up their football season tickets they had since 1940 because it took too much work to get David - a former KU team captain in 1938 under Ad Lindsey - in and out of the stadium due to a leg injury.
They still passionately root for the Jayhawks, and they have rarely missed a basketball game in Allen Fieldhouse since 1940, even though their seats were moved far away from the floor in the last few years.
Margaret's family settled on the farm in 1865, and after living in several Kansas cities, the couple moved back in 1966 to the house at 1359 North 1900 Road, just north of Riverfront Park.
Margaret remembers walking down the stairs in the house when she was 5 years old. She held a ring as part of her aunt's wedding. She dropped it, and Presbyterian minister Dr. James Naismith - the inventor of basketball and KU's first coach - picked it up, patted her on the head and continued with the ceremony.
David worked for several years as a coach of basketball and other sports and school administrator across the state, and Margaret worked and volunteered for 50 years in KU's alumni office.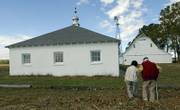 Now, the couple open up their barn several times a year for weddings and other parties, and they also play host to many of their friends, including parents of former KU basketball players.
"We are active," Margaret said. "The thing that keeps us going is our friends. They keep coming back and seeing us. We've had company from all over the last month."
Margaret, describe how your family ended up on the farm.
I was born right here. Not in this house, but right here there was another house. My grandfather came here - where we now live - in 1865. My father was born here, and so was I.
I went to grade school in Midland and high school at Liberty Memorial. The grade school is still out there, and when I was younger, I had ridden to town on the train from Midland.
David, tell us how you ended up at KU in the 1930s.
I was born on a homestead north of Salina. My folks, including my uncles, migrated to El Dorado, where I graduated high school. I played football and went to school there.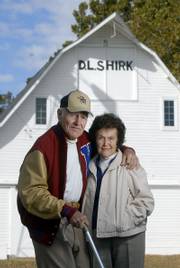 When I came to KU, we didn't have scholarships back then. You had a job, which was better than a scholarship because that was Depression days, and you'd come up here and the athletic department would find you a job that paid 25 cents an hour.
Why do you enjoy living in the Lawrence area?
David: Everything, all kinds of activity, happens around Lawrence. But if you don't take advantage of it, it's nobody's fault but yours.
Margaret: I've lived a lot of places, but I like the people, and I like the community.
It's a farming community. I'd like to keep it a farming community if we can. It's kind of neat that your grandfather came and started it as a farm, and you want to keep it that way.
Margaret, describe your involvement with the American Red Cross.
I've been volunteering there since 1966, and I was the Douglas County chairwoman for two years in the late 1960s. I volunteer at the registration desk at blood drives. If you come to give blood, I'm there. You come to me.
How did you end up using your barn for functions?
Margaret: The Delta Upsilon fraternity members came here one time, and they were absolutely desperate. They said, "We need a place." That was our first barn party in 1966. That barn blew down in a tornado in 1970, and we've been using this barn since.
We've had fraternity and sorority parties, and after that we had a smattering of weddings. Now, we have I'd say about equal amount.
What are some important issues in Lawrence today?
David: We need a grocery store, and we need a bank over here (in North Lawrence).
Margaret: I think if we can keep Lawrence kind of a small town atmosphere that would be nice, but I doubt that can happen.
David and Margaret Shirk
The Shirks have lived since 1966 on a farm together north of Lawrence at 1359 North 1900 Road, where Margaret grew up. Education: David graduated from El Dorado High School and earned two degrees from Kansas University, where he took classes from Dr. James Naismith and Dr. Forrest "Phog" Allen; Margaret graduated from Liberty Memorial High School and studied economics at Kansas University for four years. Jobs: David taught and coached at Haskell Indian School, Augusta High School (where he won a state basketball championship), Abilene High School, and was a coach, teacher and administrator at Topeka Seaman High School from 1958 to 1980. Margaret has worked several places, including the Kansas City Board of Trade and KU's alumni office. Activities: Attending KU games, opening up their barn for weddings and parties; Margaret has volunteered with the American Red Cross since 1966. Family: Daughters, Sally Walquist, of Lawrence; and Nancy Yonally, Overland Park; four grandchildren and two great-grandchildren.
Copyright 2017 The Lawrence Journal-World. All rights reserved. This material may not be published, broadcast, rewritten or redistributed. We strive to uphold our values for every story published.