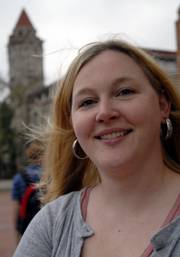 Liz Stuewe remembers heading to the ballot box when she was 7 years old and a Centennial School student.
"I remember I voted for Ross Perot," said Stuewe, a 2004 Lawrence High School graduate and a Kansas University junior. "My parents were big fans of Clinton, and I was sick of hearing about that. I heard from the rest of family about Bush, and so I voted for Ross Perot. Maybe because he had big ears."
That was the first time students in kindergarten through 12th grade could cast ballots in a mock election through Kids Voting Douglas County.
Stuewe has been involved for several years with Kids Voting in the county, mainly through her father, Paul, a longtime LHS history teacher who now teaches at Blue Valley West High School.
Liz Stuewe also has served on the Kids Voting Kansas board for the past several years. She says the program encourages student and parent involvement in civic activities.
Q: Why is Kids Voting important?
A: It gives students practical experience on how to register and how to physically cast a ballot. Kids Voting also has a curriculum behind it that is really well done and really helps incorporate different aspects of education into math curriculum and science curriculum.
It has the added benefit of being a community program, because if students are excited about it, then they will bring their parents to vote.
Q: What is the state board doing now? What benefits does the board try to promote?
A: We are working on trying to promote involvement in government at the municipal and county levels. We are trying to educate students about city councils, city commissions, schools boards and city managers. It can give students avenues and resources so they can access those parts of their government.
Liz Stuewe
Kids Voting Kansas board member Grew up: In Lawrence and graduated from Lawrence High School in 2004. She is a junior at Kansas University studying political science and American studies. Family: Father, Paul Stuewe, Lawrence High history teacher for 20 years; mother, Beth Wasson, operates the nonprofit Sisters in Crime in Lawrence for women's mystery-novel writers. Other activities: Emily Taylor Women's Resource Center at KU; student advisory board member, Dole Institute of Politics; co-president of the Commission on the Status of Women; Douglas County Democratic precinct committee member. Hobbies: Attending concerts at Liberty Hall, 642 Mass., and The Bottleneck, 737 N.H.; taking road trips; going to museums.
I think Kids Voting helps students realize that it's really not as complicated as it may seem. If you are passionate about one issue, you can really have an effect on that issue. Just by doing that at a younger age, that helps. And also, the nonpartisan nature of Kids Voting. We don't promote any political parties or any ideas.
Q: What do you think when you hear about political apathy of younger generations?
A: I don't believe students are quite as apathetic as people view them to be. I think that a lot of times the younger generations are just involved in different ways than standard civic engagement, although we saw in 2004 record numbers of 18- to 24-year-olds showed up to vote, which is a trend. ... I think that political activism is becoming less of an overt statement and more part of daily life for students.
Q: What do you enjoy most about living in Lawrence?
A: Lawrence just has this kind of tangible spirit. I think everybody who lives here can really tell that it's this sort of great, funky community. What I really appreciated growing up was the support from the community of adults I had. The Lawrence High social studies staff members were great role models and mentors.
Also, there's also this community of women in Lawrence that I have met through my mom (Beth Wasson) and the things she has been involved with. I think there are some really strong, amazing women in this community that just have a lot to offer but do it with a sense of humor and a kind of grace that I really admire.
Q: You said providing an adequate public education is the most important Lawrence issue. What would you do differently?
A: It's really sad to see this complete focus on math and science. I agree they are both important aspects of an education, but I don't think any education is complete without art and music and literature. I think social sciences have really suffered because of No Child Left Behind and other acts that emphasize math and science but not important things like civics.
Copyright 2018 The Lawrence Journal-World. All rights reserved. This material may not be published, broadcast, rewritten or redistributed. We strive to uphold our values for every story published.