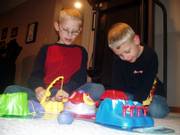 K.J. Lashley's birthday invitations went out to his friends in November.
But they included an interesting request for his ninth birthday party Nov. 15.
No presents.
K.J. asked for just donations to benefit the Boys and Girls Club of Lawrence, a site that includes before- and after-school programs to help children.
The St. John Catholic School third-grader decided to make the gesture after his parents had talked to him about how the Lawrence club serves some underprivileged children.
K.J. is the son of Tawnia and Kevin Lashley.
With no class on Friday, K.J., his 6-year-old brother Jacob and his father made a morning trip to the club, 1520 Haskell Ave., to present it with the $70 in donations raised during his party.
"(Club staff members) said it was a really, really nice thing to do," K.J. said. "They said thank you. They said that the kids would be really excited."
"It does not happen very often that children bring in money," said Janet Murphy, executive director of the Boys and Girls Club.
K.J. Lashley
Third-grader, St. John Catholic School Asked for donations instead of presents for his ninth birthday to benefit the Boys and Girls Club of Lawrence. Age: 9. Family: Father, Kevin; mother, Tawnia; brother, Jacob, 6, first-grader at St. John school. Favorite subject: Science. Favorite activities: Fishing, Boy Scouts of America, playing video games and board games, attending space museums. On his donation to Boys and Girls Club of Lawrence: "I realized they didn't have much money, so I decided to donate money there." What he hopes to be when he grows up: A video game creator or maybe an astronaut.
"Every little bit helps. Just taking the opportunity to teach our kids to give, that's so important. It's not about the size of the gift but about the willingness to give of time or money," she said.
K.J. had thought for weeks about what he hoped the money could help purchase: supplies like Crayons and pencils. Maybe some day he could give more to help pay for new playground equipment or some computer games.
His dad says K.J. is the "video game king."
K.J. says when he grows up, he would like to become a video game creator.
But he also loves science class. Now he is learning about habitats, and he has visited the Kansas Cosmosphere and Space Center in Hutchinson that has also interested him in becoming an astronaut some day.
K.J. also enjoys taking boating and fishing trips with his family, and outside of school he is involved in Boy Scouts of America.
With his cousins in town Friday evening, K.J. was in the middle of several rounds of video and board games with family members.
But he had a minute to reflect on his trip to the Boys and Girls Club on Friday morning.
"It kind of made me feel good after I gave them the little certificate," K.J. said.
Copyright 2018 The Lawrence Journal-World. All rights reserved. This material may not be published, broadcast, rewritten or redistributed. We strive to uphold our values for every story published.