As he sat in jail last month facing more than a decade in prison for aggravated battery, Louis G. Galloway got a piece of favorable news: Suddenly, the key witness couldn't testify against him.
The victim in the case had been shot and seriously injured in Ottawa the night of Dec. 19, just hours before the trial was set to begin.
Galloway's reaction? He wrote a letter to Judge Robert Fairchild demanding a speedy trial.
The shooting of Michael S. Miller "is not my fault and I should not have to suffer any longer for his (Miller's) mis-haps (sic)," the 43-year-old Lawrence resident wrote in the neat handwriting he's used for decades in similar jailhouse letters to local judges.
It was the latest twist in the life of one of the best-known criminal defendants in Douglas County - a man who has threatened a sheriff's deputy with a metal pipe, exposed himself to multiple women and driven a stolen car into the Kansas River, to name a few cases.
Galloway is one of a group of people that police and prosecutors refer to informally as "frequent fliers": people who keep coming in the door of the jailhouse, only to get out and return weeks or months later.
That lifestyle would have changed for Galloway had he been convicted of battering Miller: Because of his lengthy criminal history, he was looking at roughly 13 years in prison. Now - with Miller in serious condition at an undisclosed location - it's unknown whether the case will go forward.
Troubles start early
Galloway was born in 1963 in Denver, but Lawrence has been his home most of his life.
According to Douglas County Court records, his criminal history began in 1976 when, at age 12, he was charged with theft and received probation.
After an assault charge and another theft charge, he was sent to Boys Town in Nebraska, where he twice ran away. He was brought back to a youth center in Topeka, but after he escaped in 1980, he was sentenced to prison for "aggravated juvenile delinquency."
As an adult, Galloway has worked as a landscaper, dishwasher and handyman. He's lived all around Lawrence, recently in the 1200 block of New York Street. He's also amassed more than a dozen convictions in Douglas County District Court alone, for crimes ranging from lewd and lascivious behavior to aggravated battery.
Family members say he has a kind heart but gets into trouble when he drinks or does drugs.
"If Louie isn't drinking, he'll walk away from you," said his father, John Galloway. "If he's drinking, it's a whole different ballgame."
'You can entice him'
Shelley Diehl became familiar with Galloway during her nearly 14 years as a prosecutor in the Douglas County District Attorney's office.
"Louis Galloway was someone that law enforcement was well acquainted with, that kept the office busy," she said. "He certainly has made extensive use of the criminal justice system and all the resources that come with that."
Galloway blames his troubles in part on abuse he says he suffered during his childhood. In a 1992 letter to judge Michael Malone, he speculated that he would spend the rest of his life homeless and that he would keep exposing himself to women - a crime for which he has four convictions in District Court.
"My mind is all screwed up," he wrote. "I don't even know why I exist."
By one probation officer's account, Galloway once spent $1,500 per day on cocaine. John Galloway said his son easily succumbs to peer pressure.
"He'll say, 'I don't want to drink,' then a crowd of guys will come by. ... You can entice him," he said.
Police know Galloway as someone who won't back down from a fight. He went to prison for a 1993 incident in which he threatened then-Douglas County sheriff's deputy Al Deathe with a metal pipe in a standoff near his father's home.
In 2000, he was convicted of fleeing and eluding after he led police on a chase at speeds up to 100 mph in a Lincoln Town Car. He sped out of Lawrence, drove into a cemetery in Leavenworth County, drove through a fence, came back to Lawrence and drove into the Kansas River at the Eighth Street Boat Ramp, according to a police report.
As of Thursday, he had two cases pending in District Court for threatening Lawrence police officers, as well as two lewd and lascivious behavior cases. He also faces a fifth charge that he beat up Miller, the witness who was shot Dec. 19.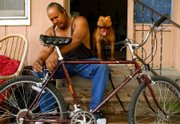 Aggravated battery
In fall 2005, Miller and Galloway lived in neighboring apartments at the same address on New York Street. Miller has testified that on Sept. 2, 2005, he asked Galloway to leave his apartment because Galloway was being "rude and obnoxious."
Miller testified that Galloway left, came back about 15 minutes later, kicked in the front door, shoved him across the room and rammed his head through the wall. He said Galloway eventually left, but that when he went outside to look for him, Galloway attacked him again, threw him to the ground, beat his head against the brick sidewalk, choked him and said, "I'm gonna kill you."
Galloway's trial was scheduled to begin Dec. 20. The night before, Brandon Jones, an assistant Douglas County District Attorney, was preparing for the trial when he got a call from his wife, Heather, the Franklin County Attorney.
She'd just learned that Miller had been shot in Ottawa - a case she is now prosecuting.
"It didn't take long to put two and two together," she said. "I called (Brandon) and said, 'Hey, this is what's going on. You're probably not going to have a jury trial tomorrow.'"
Galloway, who remains in jail, maintains he had nothing to do with the shooting, and he has not been charged with it.
One of the four Lawrence residents charged in the plot is a woman whom Heather Jones identified as Galloway's sister, Kay F. Gaillard-Taylor, 49. John Galloway identified her as Louis Galloway's half-sister. Also charged are Jeffery A. Campbell, Lee Roy House Jr. and Lisa Winter.
Heather Jones said she believes the shooting was not a coincidence and was a plot to kill a witness, with the goal of stopping Galloway's trial.
"As far as who didn't want it going on, I think that's speculation at this point," she said. "That part hasn't been completely developed."
'Not as bad as I seem'
Galloway's case files at District Court are filled with dozens of letters he's written to judges from jail - some hopeful, others despondent.
"I want you to recognize the goodness within me," he wrote in 1989. "I'm not as bad as I seem to be and my attitude develops from circumstantial situations. ... I am full of aspiration, ambition, eagerness, and I have goals I want to accomplish."
In another, he describes wanting to get out of jail so that he can spend his evenings "writing and exercising both body and mind."
One theme runs throughout Galloway's letters: his constant requests to be let out of jail through work release or probation.
"Why waste this time in my life just sitting and crying the blues when I can work on my problems?" he wrote in one letter.
Another letter sent to a judge features a drawing of jailhouse bars, next to the words "JAIL IS NO PLACE FOR ME TO BE."
Copyright 2018 The Lawrence Journal-World. All rights reserved. This material may not be published, broadcast, rewritten or redistributed. We strive to uphold our values for every story published.