Visit website 1805 E 19th St, Lawrence, KS 66044 Opens today at 11:30 a.m.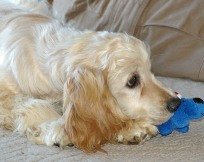 Only four months old, Jordy was lost on the streets of Eudora. He was picked up by Animal Control, held for three days, and then brought to the Lawrence Humane Society. Jordy was lonely, scared, and lost. But Jordy's story has a happy ending. He, like so many dogs and cats who are lost or abandoned and end up at the shelter, Jordy was adopted into a wonderful and loving home. This little blond fellow "filled a hole in the heart" of a family who had recently lost their beloved Springer Spaniel, Dakota. Jordy, looking for love, found just what he needed, and at the same time, gave his new family members the joy and happiness they needed.
Adopting a pet--giving a homeless dog or cat a second chance--is one of the greatest exchanges of love and kindness the world knows. Give this gift to yourself and to a companion animal in need of a home. You'll be making a friend for life and a friend for love.