Visit website 1805 E 19th St, Lawrence, KS 66044 Opens today at 11:30 a.m.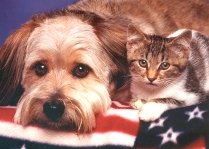 The cats and dogs at the shelter need blankets for beds. A soft, cozy blanket does so much to reduce the stress and give comfort to those in kennels waiting to be adopted.
If you have blankets, towels, or sheets you no longer need, our animals would love to hear from you. The items do not have to be new, but we'd appreciate them being clean. Please note that we are unable to use comforters, pillows, clothing, foam, or carpeting.
You may your items to the shelter (1805 E. 19th Street) during business hours, or drop them at the red bin in the Petco parking lot (3115 Iowa).