Visit website 601 S. Kasold Drive, Lawrence, KS 66049 Opens today at 5 p.m.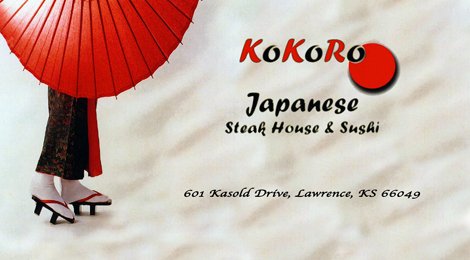 Reviews
Rating: 1
Our cook had nasal drip and it dripped into the food on the grill. There was another party whom we did not know sitting with us so I politely got our waitress and stated we could not eat the food. They were extremely apologetic but he should not have been cooking if he was ill. I will never go back.
Rating: 5
Absolutely love the salmon and sushi! There is no where in or around Lawrence that compares. Occasionally the service is poor but the food makes up for it! I am a tough critic and this is the only restaurant that I have always been pleased with!