Visit website 3401 W 6th St, Lawrence, KS 66049 Opens Monday at 8 a.m.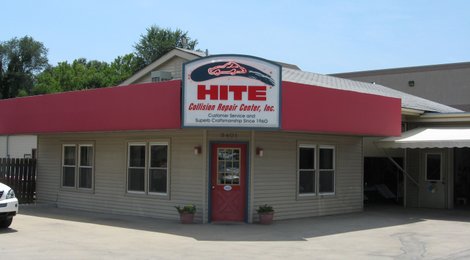 Reviews
Rating: 1
My last experience with Hite was quite different from my first two. Someone's car door put a rather large dent in our passanger side door. Took the car to Hite for dent removal and painting. When I picked up the car, Hite's owner pointed out that the new paint did not match but said that it would improve in time. Well it never got better so I took it back to Hite and requested that they make it right. Mr. Sehorn offered to re-paint for an additional $600.00. Evidently Hite does not live up to their motto "If you want it done right..." Hite's warranty also states that "Any body or paint work covered by this guarantee will be re-done at our expense,..." Evidently they don't honor their warranty either.

Rating: 4
I work for an insurance company in town and since we refer business to Hite, it was an easy choice to go here for my Hail Damage. It does take a little effort on your part to follow up with the employees on appointments and checking the status of your vehicle but the finished product is completly worth it! Didn't even recognize my own car. Hite did an AMAZING job on everything and will for sure refer business to future clients.