Engagement
Rock and Fee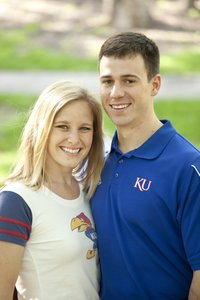 Dr. Randall and Jane Rock, Lawrence, along with Jim and Christine Fee, Overland Park, announce the engagement of their children, Elise Rock, Lawrence, and Steven Fee, Overland Park.
The future bride is a 2006 graduate of Free State High School. She graduated from the University of Kansas in 2010 with a bachelor's degree in Elementary Education.
The future groom is a 2005 graduate of Blue Valley Northwest High School. He graduated from the University of Kansas in 2009 with a bachelor's degree in Political Science.
The couple plans a December 15, 2012, wedding at First United Methodist Church in Lawrence.
Anniversary
Haid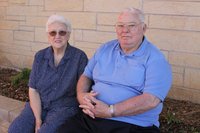 Mary and Elton Haid, Lawrence, will be celebrating their 50th wedding anniversary today.
Mary Pearson and Elton Haid were married Oct. 6, 1962 in Topeka.
Mary grew up in Baldwin, and met and married Elton while working in Topeka. Shortly after their marriage, the couple moved to Lawrence where they worked for many decades. Elton retired from a career in printing. Mary retired after a long career in banking and currently volunteers in the LMH gift shop.
The couple requests no gifts but would love to hear from their friends in the community. Cards may be sent to 876 Coving Dr., Lawrence, KS 66049.
Anniversary
Longaker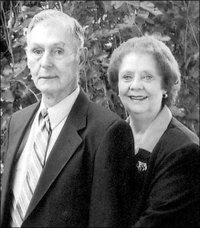 Harold and Jeanne Longaker will celebrate their 58th wedding anniversary on the 7th of October.
The couple were married Oct. 7, 1954, in Warrensburg, Mo.
They lived in Topeka until 1978 when they moved to Lawrence. Harold is retired from the Topeka Police Department. Jeanne is retired from the KU Police Department. She now works for Meals on Wheels.
They have five children, Mark of Lake Perry, Vicki of Topeka, Debbie of Topeka, Valita of Lawrence, and Mary of Lawrence. They have 10 grandchildren and 8 great-grandchildren.
No gifts - just cards.