Wedding
Wallace and Squires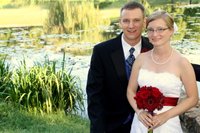 Ashly Wallace and Timothy Squires, both of Lawrence, were married July 23, 2011, at the Kansas Union at Kansas University with the Rev. Dennis Matthews officiating.
The bride is the daughter of Jeff Wallace, Eudora, and Gayle and Cindy Lutz, Lawrence.
The groom is the son of Ken and Kathy Squires, Lawrence.
Maid of honor was Richelle Chaney. Best man was Alex Travis. Bridesmaids were Ashley Davis and Erin Ashcraft. Groomsmen were Adam Van Horn and Evan Ridenour. Ringbearer was William Wise. Ushers were Jeffery Wallace and Isaac Severance.
A reception was held in the Naismith Ballroom in the SpringHill Suites in Lawrence.
The bride is a 2005 graduate of Lawrence High School. She earned a bachelor's degree in elementary education from KU in May and is pursuing a master's degree in education, also from KU.
The groom is a 2004 graduate of LHS. He earned bachelor's degrees in accounting and information systems from KU in 2010 and is a systems engineer for Cerner Corp. in Lee's Summit, Mo.
The couple reside in Olathe.
Anniversary
Cretsinger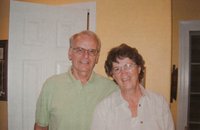 Dean and Lois Cretsinger, Colorado Springs, Colo., formerly of Lawrence, will celebrate their 50th wedding anniversary with a reception on Nov. 20 in Lawrence.
The couple were married Nov. 23, 1961, in Phillipsburg.
Dean is a graduate of South Dakota Northern State College and is a retired subcontractor. Lois is a graduate of Kansas University and is a retired teacher.
They have two sons, Dan, Lawrence, and Steve, Topeka; and two grandchildren.
Cards can be sent to the couple in care of Carolyn Bond, P.O. Box 170, Lecompton, KS 66050.