Anniversary
Howard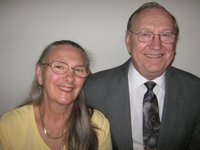 John and Nancy Sue Howard, Lawrence, will celebrate their 50th wedding anniversary on April 24 with invited family and friends at First Southern Baptist Church in Lawrence.
The couple were married April 24, 1960, at Assembly of God Church in Lawrence.
Nancy is retired from Honeywell in Olathe. She currently does volunteer work in her spare time. John is retired from Kansas University Printing Service. He is currently a bi-vocational pastor for the Grace Communion International, and is continuing his education.
They have a daughter, Sandra Lloyd, Topeka; five grandchildren; and three great-grandchildren. A son, John, died on April 4, 2008.