Anniversary
Schild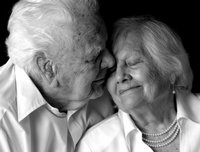 Alvin H. and Joyce Schild, Lawrence, will celebrate their 60th wedding anniversary with a family celebration.
They were married on the bride's birthday, April 14, 1949, by the Rev. Peter Schild, the groom's father, in Norwood, Minn.
Both received graduate degrees from the University of Iowa. Alvin is an emeritus professor of education at Kansas University. Joyce is an artist and previous Phoenix award winner. They have lived in Lawrence since 1950.
They have three daughters, Linda Twitchell, Bellingham, Wash., Darcy Schild, Lawrence, and Crystal Carstens and husband Ken, San Antonio, Texas; and four grandchildren.
Wedding
Gordon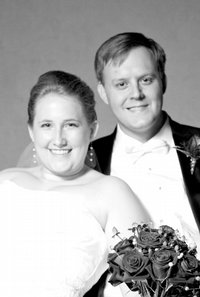 Buchanan-Gordon
Joah Buchanan, Eudora, and Ryan Gordon, Hutchinson, were married Dec. 20, 2008, at Abe & Jake's Landing with the Rev. Tom Mendenhall officiating.
The bride is the daughter of Gary and Peg Buchanan, Eudora.
The groom is the son of Greg and Kay Gordon, Hutchinson.
Best man was Zach Mendenhall. Bridesmaids were Marcy Farguson, Laci Gerhart, Amanda Campanella, Kristin Fager and Lisa Bowman. Groomsmen were Matt Kappenman, Zach Harper, Chris Moeder and Danny Platte. Readers were Sarah Hemerling and Shelley Bennett. Candlelighters were Amber Gordon and Ashley Gordon. Guest attendant was Esther Bowman. Program attendant was Jacqueline Zook.
A reception followed at Abe & Jake's Landing.
The bride is a 2002 graduate of Eudora High School, a 2006 graduate of Kansas University and a 2008 graduate of Baker University School of Nursing 2008. She is employed with Overland Park Regional Medical Center.
The future groom is a 2001 graduate of Hutchinson High School 2001 and a 2005 graduate of KU. He is employed with Embarq.
The couple reside in Overland Park.