Engagement
Krysa and Folsom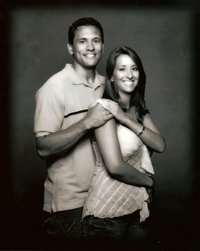 Steve and Gail Folsom, Kansas City, Kan., announce the engagement of their daughter, Stacy Folsom, Tonganoxie, to Jonathan Krysa, Lee's Summit, Mo., son of Mitch and Jenese Krysa, Lee's Summit.
The future bride graduated from Basehor-Linwood High School and attends Johnson County Community College. She is employed at Heartland Hand and Spine.
The future groom graduated from Lee's Summit High School and received a Bachelor of Science in business administration and a Master of Business Administration from Rockhurst University in Kansas City, Mo.
He is employed by Embarq and is a pitcher for the Kansas City T-Bones.
The couple plan a Dec. 8, 2007, wedding.
Engagement
Shearburn and Quinn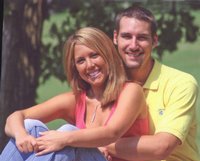 Charles and Patricia Protasio, Baldwin City, announce the engagement of their daughter, Sheena Quinn, Lawrence, to Tylor Shearburn, Lawrence, son of Tony Shearburn, Columbus, and Suzanne Shearburn, Parsons.
The future bride graduated from Baldwin High School in 1999 and Kansas University in 2003. She is employed by Ranjbar Orthodontics.
The future groom graduated from Parsons High School in 2000 and received a degree in athletic training from KU in 2006. He is employed by Orthopedic Outfitters of North Kansas City, Mo.
The couple plan a Sept. 29, 2007, wedding in Lawrence.
Wedding
D'Ercole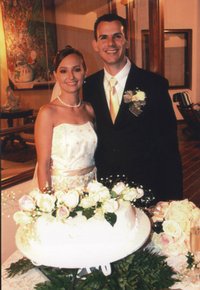 Clemencia Gonzalez and David D'Ercole were married Oct. 14, 2006, in Pereira, Colombia.
The bride is the daughter of Otto Gonzalez and Martha Botero, Pereira. The groom is the son of Fred D'Ercole and Janet D'Ercole, both of Lawrence.
A reception followed in Pereira.
The maid of honor was Kathy Andrade. The best man was Fred D'Ercole.
Clemencia graduated from Gimnasio Pereira and Universidad Nacional de Colombia. David graduated from Lawrence High School and Baker University. He is employed as an elementary school principal at Colegio Granadino in Manizales, Colombia.
The couple reside in Manizales.
Anniversary
Pickerel
Mark and Linda Pickerel, Lawrence, celebrated their 20th wedding anniversary.
Mark Pickerel and Linda Carr were married July 11, 1987, at First Christian Church in Lawrence.
They are employed by Kansas University. Their children are Matthew and Alexander Pickerel, both of Lawrence.
The chancel flowers at the July 8 service at Plymouth Congregational Church were given in honor of their anniversary.
Anniversary
Duncan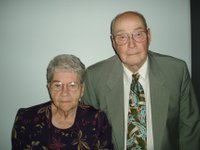 Ernest and Elizabeth Duncan, Lawrence, will celebrate their 65th wedding anniversary Monday. A family celebration is planned for Sunday at the home of their son, Bruce Duncan, Olathe.
They were married July 16, 1942, in Lawrence.
The Duncans are former residents of Perry. They owned and operated a dairy farm for many years and were active in the local 4-H Club and Perry Christian Church.
Ernest worked at the Kmart Distribution Center in Lawrence and is retired.
Their other children are Wayne Duncan, Topeka; Sandra Casey, Osage City; and Rhonda Rowell, Lawrence.
They have four grandchildren and six great-grandchildren.
The couple request no gifts.
Anniversary
Gilbert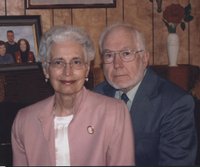 Verlin and Suzanne Gilbert, Lawrence, celebrated their 50th wedding anniversary with a reception hosted by their children and their families July 8 at First Baptist Church in Lawrence.
They were married June 28, 1957, at First Baptist Church in Woodland Hills, Calif. They have lived in Lawrence for 50 years.
Verlin graduated from Caney High School and received degrees from Pittsburg State University and Kansas University. He served in the U.S. Navy submarine service from 1948 to 1952.
He began his teaching career at Central Junior High School in Lawrence in 1956 and served as principal at Cordley and Deerfield schools. He retired in 1992.
Suzanne lived in Independence before moving to California. She graduated from Canoga Park High School and worked at Rocketdyne, a division of North American Aviation, in Los Angeles. She received a degree in education from KU in 1977 and opened Johnnie Appleseed Preschool at First Baptist Church in 1980.
Their children are Sharna Miller and husband Dale, Lawrence, the late Dana Knappenberger, formerly of St. John, and Darren Gilbert and wife Gaila, Lawrence.
They have seven grandchildren.