Anniversary
Hein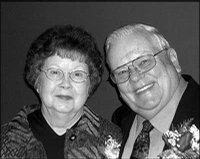 Robert and Caroline Hein, Topeka, will celebrate their 50th wedding anniversary Sunday.
They were married Jan. 30, 1955, in Wichita. Robert attended Kansas University. They raised their family in Wichita and Derby. Both were employed by Boeing Co. After retiring in the mid-1990s, they moved to Topeka.
Their children are Scot Hein, Vancouver, British Columbia, and Melinda Fish, Lawrence. They have three grandchildren.