Visit website 1006 W 6th Street, Lawrence, KS 66044 Opens Monday at 8 a.m.
Products / Fisher & Paykel HC234 CPAP Device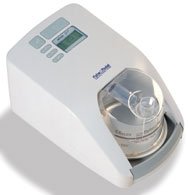 Sleek, modern appearance with integrated heated humidifier makes this all-in-one unit one of the most compact units on the market. Hour/Session meter accumulates usage sessions and total hours used. Carrying case offers exceptional padding and is big enough to carry both the CPAP unit with humidifier and mask. International power supply with lightweight, snug-fitting power cord. Icon-based display makes setup easier. Altitude adjustment compensation. Extremely quiet operation. 4 - 20cm H2O pressure range. DC operation.