Anniversary
Suitt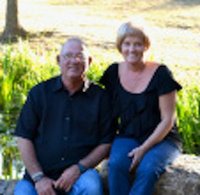 Mike and Cheryl Suitt, both of Lawrence, celebrated 30 years of marriage on November 12th.
Mike retired from the Douglas County Sheriff's Office in December of 2000.
Cheryl retired from Clinton Parkway Hy-Vee, after being diagnosed with brain cancer, in April 2011.
Together they have 4 children (Michael Suitt Jr.-St. Joseph, MO, Kevin Suitt-29 Palms, CA, Leslie Dlugosh-Spring, TX, Joey Suitt- McLouth, KS) and 10 grandchildren.
Their children and family will be hosting a dinner and celebration on November 17th at 5pm at the Worden United Methodist Church. They invite all family and friends to join them and request no gifts.