A former prosecutor, county sheriff and KBI agent likely made mistakes related to DNA and lie detector evidence in a 1999 wrongful murder conviction, but Jefferson County's top prosecutor said he's convinced they weren't intentional.
Questions about how certain pieces of evidence were handled in the 1999 murder conviction of Floyd Bledsoe have been swirling since December, when a Jefferson County court overturned his conviction and released him from prison.
Jefferson County Attorney Jason Belveal told the Journal-World recently that mistakes were made in the case that convicted Bledsoe for the murder of 14-year-old Zetta Camille Arfmann. But Belveal said he doesn't believe there is evidence to show the former prosecutor and law enforcement officials tried to put the wrong man behind bars.
"It's just kind of, unfortunately, one of those things," Belveal said. "Mistakes just got compounded, but I think they were honest mistakes. I don't think anybody did anything sinister."
After having served 15 years in prison, Bledsoe was released from custody in December after new DNA evidence and letters of confession from Floyd's late-brother Tom Bledsoe emerged. During the December court hearing that set Bledsoe free, the Jefferson County court heard testimony about irregularities in the investigation. They included:
• Original DNA samples were undergoing testing at a Kansas Bureau of Investigations lab when a stop order was signed by Jefferson County Attorney Jim Vanderbilt, Sheriff Roy Dunnaway and KBI Special Agent James Woods, all who are now retired. The stop order does not have an explanation about why it was issued.
• Jefferson County chief of detectives Kirk Vernon testified that KBI investigators had learned there were problems with the results of the polygraph test that Tom Bledsoe, Floyd's brother, took. A review of the polygraph results showed that Tom actually failed the question, "Did you shoot and kill Camille Arfmann?" In 1999, Floyd and his lawyer were told Tom passed the polygraph. Dunnaway subsequently told the media that Tom passed the lie detector test with "flying colors."
When contacted by the Journal-World last week, Dunnaway said he couldn't explain some of the testimony.
"I can't even see me signing anything like that," Dunnaway said of the order that stopped the DNA testing. "There's no way I would have stopped DNA testing. I like the truth, and whatever the truth is, get it out there and get it going."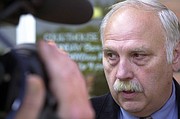 Dunnaway, who was Jefferson County's sheriff for 25 years and retired in 2008, said he also remembered being told by the KBI polygrapher that Tom passed the polygraph and Floyd failed it.
"I was trying to figure out the truth — what is the truth and what isn't the truth," Dunnaway said of the investigation.
Mark K. Malick, senior special agent with the KBI, said agents and Jefferson County deputies are re-examining the case. Jefferson County detectives long believed that someone else had been involved in the girl's death, and the new forensic tests now show that the DNA found on Camille's socks matched that of Floyd's father.
"The KBI is re-examining the investigation that was conducted in 1999, and as part of that investigation, the KBI is looking for any additional investigative leads and/or evidence which could be submitted for forensic testing," Malick told the Journal-World in a statement last week.
The KBI has not said when it will finish its investigation. Malick said the KBI report likely will not draw any conclusions about how the original investigation was conducted.
Belveal, the Jefferson County prosecutor, said he expects the report will say: "Here is what happened, here is where the wheels came off. In the future we would suggest that these sort of things be handled differently.
"I doubt very seriously if they will say there was something sinister going on, and therefore we should look at some type of prosecution, you know, something internal."
Belveal also said prosecuting Floyd's father, Floyd Bledsoe Sr., would be difficult because the only evidence authorities have is the DNA found on Camille's socks.
"The DNA on the socks, it's a match for Floyd Sr., with apparent utter certainty," Belveal said. "But I don't think we can say any more than that with any degree of certainty. We can all speculate as to what the explanation is, but can you prove it beyond a reasonable doubt is obviously the question."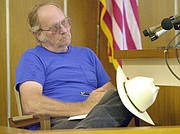 In murder cases there is no statute of limitations. So if it could be shown that someone assisted in the murder, that person could be charged no matter how minimal their involvement or how much time has elapsed, Belveal said.
If the person's involvement was after the fact, Belveal said that would be a "separate crime with very specific statute of limitations. But there are other ways to kick open the door on statute of limitations. For example, if you took active steps to conceal your involvement, that could potentially open the door. If I felt like we had a chance, I would run it up the flagpole."
If Floyd Bledsoe wants to seek justice for his wrongful conviction, that may require a civil case, an attorney who has worked on such matters said. Barry Clark, a Riley County attorney who handled a wrongful conviction case in 2010 that netted $7.5 million for his client, said that's typically how such matters are resolved.
Winning such a case involves clearing a high hurdle because law enforcement officials have qualified immunity in such matters. Clark said Bledsoe likely would have to show that law enforcement violated his constitutional rights by "deep-sixing exculpatory evidence" such as the DNA testing.
Bledsoe has said he is considering filing a civil lawsuit.
"This is a sad case," Clark said. "But I can tell you ... there are some things that cause me some real concern."
Attempts to reach Vanderbilt, the former Jefferson County attorney, were unsuccessful. Vanderbilt — who has since had his law license revoked in Kansas — has moved east, his former wife told a reporter last week.
James Woods, the former KBI special agent who signed the stop order on the DNA testing, lives in Lawrence, but refused to comment when contacted by a reporter recently.
Timeline: Floyd Bledsoe murder conviction overturned
● May 29, 2016 —
Lawsuit filed by wrongfully convicted man details how law enforcement officials allegedly framed him
● May 21, 2016 —
Floyd Bledsoe, wrongfully imprisoned for 15 years, pushes to end death penalty in Kansas
● May 10, 2016 —
Floyd Bledsoe, wrongfully imprisoned for 15 years, says he was 'framed,' files lawsuit against Kansas justice officials
● Feb. 12, 2016 —
Wrongfully convicted Floyd Bledsoe seeks videotaped interrogations in Kansas
● Feb. 8, 2016 —
Kansas bill would allow $235K for wrongfully convicted man who spent 15 years in prison
● Jan. 18, 2016 —
Jefferson County attorney doesn't expect further action against former sheriff, others involved in wrongful murder conviction
● Jan. 17, 2016 —
Bledsoe case spurs measure to allow compensation for wrongful convictions
● Jan. 10, 2016 —
Requiring that police interrogations be recorded might have prevented tragedy of wrongful conviction
● Dec. 30, 2015 —
'Who are you going to tell?' — Floyd Bledsoe, wrongfully convicted of murder, discusses pain of prison, journey to forgiveness
● Dec. 27, 2015 —
1999 Oskaloosa murder case reopened; possibility that killer 'had assistance'
● Dec. 13, 2015 —
Web of lies, indifference to justice led to wrong Kansas brother being imprisoned for more than 15 years
● Dec. 13, 2015 —
Kansas has no law on payouts for wrongly incarcerated prisoners
●
Dec. 8, 2015 — Judge throws out 2000 murder conviction, frees Oskaloosa man after 15 years in prison
● Nov. 13, 2015 —
Original suspect in girl's murder dies of apparent suicide as case about to be revisited
● Oct. 21, 2015 —
KU Project for Innocence, Midwest Innocence Project seeks to free convicted murderer with DNA evidence
● July 8, 2012 —
Objection to DNA testing not likely
● June 20, 2012 —
Motion seeks DNA testing in 1999 murder of teen
● Sept. 30, 2009 —
Further appeals limited in Bledsoe case
● July 5, 2009 —
1999 murder case won't settle
● June 28, 2009 —
Federal court reverses release in murder case
● Oct. 7, 2008 —
Floyd Bledsoe, sentenced to life for murder of teen sister-in-law, set free; ineffective assistance of counsel cited
● Feb. 3, 2007 —
Court upholds murder conviction
● Feb. 2, 2002 —
Murder conviction is upheld
● Dec. 5, 2001 —
Attorneys appeal conviction of teen-ager's murderer
● Dec. 2, 2001 —
Oskaloosa murder case to be heard
● July 15, 2000 —
Victim's family unsure justice was served
● July 15, 2000 —
Bledsoe gets life
● July 14, 2000 —
Bledsoe sentenced to life in prison
● June 23, 2000 —
Bledsoe sentencing delayed
● May 31, 2000 —
Lawyer: Mother's story changes
● April 30, 2000 —
Minister supports Bledsoe in spirit
● April 28, 2000 —
Bledsoe found guilty
● April 28, 2000 —
Bledsoe murder case goes to jury
● April 27, 2000 —
Bledsoe charges amended
● April 27, 2000 —
Bledsoe prosecution rests
● April 27, 2000 —
Bledsoe murder trial wrapping up
● April 26, 2000 —
Tom Bledsoe seeks to explain lies
● April 26, 2000 —
Bledsoe told his mother he didn't kill Arfmann
● April 25, 2000 —
Pool of potential jurors knows all about case
● April 25 2000 —
Trial starts in murder of girl, 14
● April 24, 2000 —
Murder trial to begin today
● Dec. 10, 1999 —
Family of victim tries to cope with pain, loss
● Dec. 10, 1999 —
Murder suspect enters innocent plea
● Dec. 9, 1999 —
Murder suspect to be arraigned
● Nov. 30, 1999 —
Case pits brother vs. brother
● Nov. 18, 1999 —
Friends relieved charges were dismissed against Oskaloosa man
● Nov. 16, 1999 —
Wife proclaims husband's innocence in girl's death
● Nov. 14, 1999 —
In-law jailed in slaying of teen-ager
● Nov. 14, 1999 —
Family, friends mourn Camille
● Nov. 10, 1999 —
Quiet hearing for defendant charged with girl's slaying
● Nov. 10, 1999 —
Bledsoe recieves murder charge
● Nov. 9, 1999 —
Police hold relative of slain girl
● Nov. 9, 1999 —
Girl's death leaves family, children with questions
Copyright 2018 The Lawrence Journal-World. All rights reserved. This material may not be published, broadcast, rewritten or redistributed. We strive to uphold our values for every story published.