Oskaloosa — Another hearing in the Floyd S. Bledsoe case came and went Thursday, not that residents in this small town seemed to notice.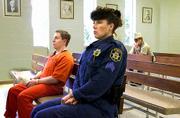 And the ones who did, said an employee at the Oskie Tavern, a popular hangout, aren't sure Bledsoe really murdered his 14-year-old sister-in-law last November or, at least, that he acted alone.
"That's the gist I'm getting, that it wasn't the right person or that there was more involved," said Barbara Leger, an employee at the tavern across from the Jefferson County Courthouse, where Bledsoe was scheduled to be sentenced today.
That hearing was delayed at the request of defense attorney John Kurth, who said he wasn't able to contact all the witnesses he needed for the hearing. Sentencing was rescheduled for 9:30 a.m. July 14.
Bledsoe, 23, was convicted in April at the end of a weeklong trial on felony convictions of first-degree murder, aggravated kidnapping and aggravated indecent liberties with a child.
Those charges stemmed from the Nov. 6 disappearance of Camille Arfmann. Her body was found two days later on property owned by Bledsoe's father. Arfmann had been shot in the head and chest. The upper half of her body was exposed.
Bledsoe's brother, Tom, led investigators to the body and was initially charged in the case. He recanted his story after a week in jail, saying Floyd Bledsoe had blackmailed him into taking the blame for Arfmann's death.
Bledsoe faces a possible life sentence for the murder charge alone, with parole not possible for 25 years.
Floyd Bledsoe was convicted in April of first-degree murder, aggravated kidnapping and aggravated indecent liberties with a child.His sentencing for the November crimes has been rescheduled for 9:30 a.m. July 14.
Court services officers also have recommended he pay the costs of Arfmann's funeral to the Crime Victims Reparation Board. The documents did not indicate the cost of the funeral.
That recommendation delayed Thursday's hearing. Defense attorney John Kurth wanted witnesses to testify against the proposal, but they had not been contacted by Thursday morning. He asked District Judge Gary for more time to round them up.
Kurth also plans to call his client's mother, Catherine Bledsoe, in hopes she will recant trial testimony that her son tried to implicate his father in Arfmann's death.
"Me personally, I think there should be a new trial," Leger said. "There's too many discrepancies in the whole thing."
Copyright 2018 The Lawrence Journal-World. All rights reserved. This material may not be published, broadcast, rewritten or redistributed. We strive to uphold our values for every story published.