Sean Hall will be the first to agree that Club Magic has problems.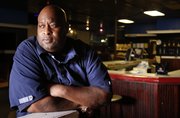 Two months after taking over as general manager of the club, he's seen a shooting victim bleeding in the parking lot on the same night that security guards disarmed a man brandishing a gun at the bar. The two incidents together early Sunday morning — though apparently unrelated — drew the attention of police and the public to a nightclub that, while only about a year old, occupies a building in Lawrence long associated with such incidents. At least one city commissioner has called this week for the club's liquor license to be revoked.
'I hate to see what's happening here'
Hall, 43, of Atlanta, said he knows about the history at 804 W. 24th St. and has been trying to turn the nightclub around. But those efforts were made more difficult when one victim in a double shooting in a nearby residential neighborhood crashed his car into Club Magic's parking lot and, rightly or wrongly, linked the music venue with violence again.
"I've never seen so much blood in my life," Hall said. "I hate to see what's happening here. I would be upset too, if this was happening in my community. This was in our backyard, too."
When Club Magic opened last year, it inherited a host of problems left behind by previous tenants, Hall said.
The most recent of those, Taste Bar and Grill, surrendered its liquor license last spring after a bouncer was shot and the owner was cited for liquor law violations, drawing unwanted attention from city officials. When Club Magic opened soon after, people already tended to associate it with those stories, Hall said, even though Magic LLC, registered in Topeka, has nothing to do with the former owner of Taste. "The guy left a bad taste in the community's mouth," Hall said. Even in his dealings with food and beverage distributors, Hall said, Club Magic has had to contend with that bad reputation. "Kansas is a small place, and I'm learning that fast," Hall said.
Making changes
Hall and other managers at Club Magic made changes when they took over, replacing the club's in-house security guards with a pair of professional security firms — one, unarmed to work inside, and a second, armed and licensed, to work outside. When Hall came to work at the club, first as a chef and now as general manager, his 19-year-old son came with him and works there now as a dishwasher, while pursuing a music career.
"I wouldn't want my son around anything that wouldn't be healthy for his well-being and his future," Hall said.
Even so, there are troublesome elements among the club's clientele, and Hall said he's seen it. He and the music promoters who work with him are trying to shift the club's following, and changing the music will be part of that. By moving away from a steady diet of raw hip-hop and rap acts, toward a more diverse lineup of other kinds of hip-hop, electronic, and even country-western music, Hall said he hopes to attract an older crowd, and one less interested in fighting.
The club is likely to also stop admitting patrons under 21, and may start to close earlier, no longer remaining open to serve food for hours after the liquor is locked away at 2 a.m. Hall said he is proud of the club's menu — especially its burgers and the house special, duck butter wings — but he's looking for ways to make the business safe and a good neighbor to the community.
But even as he makes these changes, Hall said he thinks the club is being unfairly blamed for a shooting that happened blocks away, and doesn't want all of his customers painted with the same brush by those upset about Sunday's incidents.
"They can blame Topeka, they can blame hip-hop, but the issue is deeper than that," Hall said. The problems faced by youth in America, and a culture of gun violence, are bigger than Club Magic, he said.
A long, bloody history
The history of problems at 804 W. 24th Street goes back at least to the 1990s, and is only part of the city's uneasy relationship with nightlife. While Taste was facing the revocation of its liquor license last year after a bouncer was shot by a patron, city officials and police studied crime hotspots associated with bars and clubs all over town. And before Taste, a club called Liquid was the scene of a double stabbing in 2006. Ten years before that, a 32-year-old Topeka man was found guilty in a deadly shooting outside the former club Langston's, at almost the same location, 806 W. 24th St.
Some past nightclubs at 804 W. 24th St.
• Club Magic: 2012
• Taste Bar and Grill: 2010
• Liquid: 2002
• Langston's: 1996
• NiteOwls: 1995
The city has pursued other nightclubs in recent years for problems with violence. Owners of Last Call closed the nightclub in the 700 block of New Hampshire Street after a legal battle with the city. In 2009, owners of the former Club Axis, 821 Iowa, previously known as Moon Bar, also closed its doors and put the building up for sale and surrendered the club's state liquor license.
Sunday morning
Until recently, Club Magic has avoided those kinds of problems. Police confiscated a gun from a car in the club's parking lot in February, and on Sunday morning, the security firms hired by Hall successfully disarmed a man who sneaked a firearm into the bar.
"They've done a stellar job," Hall said. Police were called, and a 21-year-old Lawrence man was arrested.
Apart from that, things seemed fine at Club Magic as Saturday night turned into early Sunday morning, Hall said. Then, a car driven by a badly wounded man crashed into a police car in the parking lot. Hall said two customers at the bar brought ice and helped perform first aid on the man as ambulances arrived.
"It's tragic," Hall said. "I know that there have been issues at the facility before, but never of this magnitude."
The wounded man was likely driving to the bar for help, police said, after being shot along with another man three blocks to the north in the 800 block of Greever Terrace. The two wounded men, both of Topeka, were taken to area trauma centers in critical condition. Hospital officials have not released information about them since Monday, but Douglas County prosecutors said Wednesday that they remained hospitalized with life-threatening injuries.
Two Topeka men, Erick Shakeel Smith, 20, and Steven Michael Gigger, 29, have been charged in the shooting and remain in Douglas County Jail. Hall said it's not clear that the men involved had even been to the club before. Police said they are investigating the shooting, but have not publicly linked it to Club Magic aside from the location where the second victim was found.
Proof in the pudding
But Hall is aware that some see Sunday's incident as part of a pattern, and he is redoubling his efforts to rehabilitate Club Magic's reputation.
"We want to show the community that we're not that stereotypical club," Hall said.
To that end, beyond changing the music and the age of entrance, Hall wants to reach out to his neighbors. He said that even before Sunday, he and other employees started a program to cook meals for Lawrence's hungry, and has signed up four families so far. Next, Hall said, he would like to sponsor some youth league sports and put on more family-friendly events.
On June 1, Club Magic is planning an outdoor fair in the parking lot, with art exhibitions, fire-eating performers and rides for children.
Hall's effort to change things at Club Magic began to show Friday, when he hosted a public meeting for anyone, including the public and police, who wanted to talk about how the nightclub can work with the community. Afterward, when the party started, Club Magic debuted a new event: "30 Something night." Only those 30 years of age or older were admitted with ID, and performer DJ Nasty promised a "great time with no drama."
Hall said he didn't have all of the answers, but hoped Club Magic was moving in the right direction. "We're going to try it, but, you know, the proof will be in the pudding."
Copyright 2018 The Lawrence Journal-World. All rights reserved. This material may not be published, broadcast, rewritten or redistributed. We strive to uphold our values for every story published.