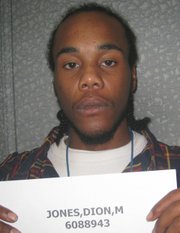 A 21-year-old Kansas City, Kan., man has been charged with felony gun possession following a Sunday morning arrest at Magic Lounge, 804 W. 24th St.
Dion Marcell Jones was arrested after police responded to Magic Lounge following a concert that had performers and attendees from a "criminal street gang from the Kansas City, Kan." area, according to the criminal complaint.
The same gang had been "involved in numerous incidences involving firearm violence over several years."
Officers walking through the parking lot of Magic noticed a Glock brand handgun concealed under the front seat of a Chevrolet Impala shortly after 1 a.m. Police conducted surveillance on the vehicle, and when Jones entered the car, arrested him.
Jones is currently on probation stemming from a 2012 drug-selling conviction out of Wyandotte County. Jones has been transferred from the Douglas County Jail to federal custody.
Copyright 2018 The Lawrence Journal-World. All rights reserved. This material may not be published, broadcast, rewritten or redistributed. We strive to uphold our values for every story published.