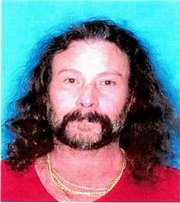 Perry — Family, friends and loved ones of Shawn Fowler, 44, have had suspicions and assumptions as to what happened on Dec. 10, when Fowler went missing from his Perry home.
Many of their questions now have answers.
"It's been tough; I have been thinking about it every day ever since he disappeared," said Shawn Martin, Fowler's best friend. "We've known each other ever since I was in junior high."
A fisherman found a body floating face down in the Delaware River around 3:30 p.m. Thursday.
Jefferson County Sheriff Jeff Herrig said scars on the body and jewelry worn by the man match Fowler's description from when he went missing.
"He had quite a bit of jewelry on, a watch, ring, necklaces, which we identified as probably being Shawn's," Herrig said.
Martin said he thinks Fowler went down to the river, as he often did, but because of his poor health, fell in and was taken over by the cold water.
"I have gone over to his house and found him down there trying to climb down those steps before with his bad health, and I would get him back up, but I wasn't there this time," Martin said.
Authorities have been searching the river off and on over the past three months.
Although police are waiting on fingerprint results to positively identify the body, Herrig believes this recent development will close the missing person case and provide some answers for Fowler's family — his parents, Dale and Judy, and older brother, Eric.
"For the family to have closure, just to do what they need to do," Herrig said.
The family is planning a graveside service for Shawn Fowler at 11 a.m. Monday at Williamstown Cemetery.
Copyright 2018 The Lawrence Journal-World. All rights reserved. This material may not be published, broadcast, rewritten or redistributed. We strive to uphold our values for every story published.