Photo Gallery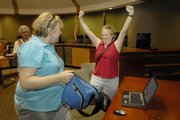 Domestic partnership registry
It wasn't exactly a walk down the aisle, but couples who registered as domestic partners at Lawrence City Hall on Wednesday found cause for celebration.
"It's not marriage, but we're getting there," said Teri Herberger, who's been with her partner, Angela Richmond, for three years.
Both dressed in white blouses, and Richmond donned a white hat, as the two typed their names in a computer set up for the first day of the registry. They provided proof they live together and paid the $75 fee. After clicking "submit," a crowd of about two dozen people cheered.
"We knew that it would be special for people and wanted it to feel celebratory," said Lori Messinger, an organizer of Wednesday's kick-off event.
According to City Clerk Frank Reeb, the first application to the city's new domestic partnership registry came in at 7:31 a.m. By 5 p.m., 14 couples had logged onto lawrenceks.org and applied to become among the first legally recognized same-sex couples in Kansas.
"We fought, and we worked for this day, so it's only natural we'd be here for the ribbon-cutting, for the opening of the registry," said Stephen Maceli, a Lawrence business owner who has supported the registry since the idea first started late last year.
With his partner, John P. Connolly, Maceli registered Wednesday at City Hall. "I think we would marry for the benefits you get when you get married. With this we get no benefits, but it is public recognition, which is pretty important," Connolly said.
Lawrence's registry is open to people who can't marry in the state of Kansas as well as those who choose not to, such as Janet Horner and Michael Eravi, a Lawrence couple of four years.
"We're committed to each other. That's what matters, not going through a marriage ceremony," Horner said. "But we're happy to declare ourselves to the world as being domestic partners, and it should be something that everybody has the ability to do."
"With or without that registry, we're still a couple," Eravi said. "The registry provides us the opportunity to prove that we're a couple. That's all it is."
Horner said she had to provide a list of documents, such as proof that she shared bank accounts, tax returns and property with Eravi, when she tried to add him to her employer's health insurance plan.
"Those are the things that you need to do when you're not married, and it's offensive to me that married people don't have to do that," Horner said. "If it (the registry) had been in place already, then I would have been able to use that as proof of our relationship."
Approved applicants will receive a certificate and two laminated cards in the mail, but they won't get any additional legal rights. Some employers may recognize the registry as proof of a domestic partnership and extend benefits, such as health insurance, to their employees' partners.
No one at Wednesday's event had to brave picket lines in front of City Hall, but organizers with the Kansas Equality Coalition requested Lawrence police be present during the event.
"I think what that means is while people may disagree, they're not disagreeable about it. That's very comforting," said Mayor Sue Hack at the event.
However, the absence of protesters doesn't mean the registry is without opposition.
"I probably wouldn't have picketed, but I may have stood outside to pray," said the Rev. John McFarland, a pastor with the Christ Covenant Church and member of the Lawrence Association of Evangelicals.
McFarland spoke against the registry when the City Commission approved it in May. He believes its approval makes society view marriage less seriously.
"There's a difference between what's legal and what's right. I think that's outside what they should be doing," he said.
Most couples who registered thanked city leaders for approving it. Hack, who voted for the registry, said: "I think we're saying that we're a welcoming and open and diverse community, and I think we're a community that recognizes families come in a lot of different forms. I'm proud to be a member of a commission that recognized that."
Copyright 2018 The Lawrence Journal-World. All rights reserved. This material may not be published, broadcast, rewritten or redistributed. We strive to uphold our values for every story published.