Photo Gallery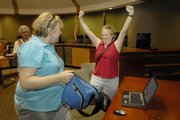 Domestic partnership registry
A few who do
According to a survey conducted by the Human Rights Campaign, several national companies with Lawrence ties offer health benefits to domestic partners of employees. Here are some:
¢ Gap¢ Bank of America¢ Sears Holding Corp. ¢ Walgreens¢ Sprint ¢ Target¢ J.C. Penney Co.¢ Starbucks¢ Applebee's¢ Home Depot¢ Best Buy¢ Borders¢ Hallmark Cards
Lawrence's new domestic partnership registry - the first in the state - may not do as much to increase the availability of health insurance to same-sex couples as once thought.
Insurance leaders on Wednesday said the new registry doesn't change a state law that limits the ability of insurance companies to offer policies that cover domestic partners.
"I would say it is going to be hard, if not impossible, for a small business to find that type of coverage in the near term," said Scot Buxton, vice president with HRH, the Lawrence insurance firm formerly known as Charlton Manley.
A spokesman for Kansas Insurance Commissioner Sandy Praeger said that all the talk surrounding domestic partnerships has spurred the office to ask the Kansas attorney general for a legal opinion on the issue.
Spokesman Bob Hanson said there were questions about whether providing insurance to domestic partners violated a provision of the Kansas constitutional amendment that bans gay marriage.
Hanson said Praeger, of Lawrence, was not seeking the opinion in an attempt to derail coverage for domestic partners.
"People shouldn't read anything into this," Hanson said. "It is just a matter of course. It is just to ensure that we're following a constitutional path."
Attorney General Paul Morrison already has issued a legal opinion stating Lawrence's registry wasn't in conflict with the amendment, but he hasn't issued an opinion on the specific insurance question.
Insurance company speaks
The Lawrence registry does not require any company to offer health benefits to domestic partners. But supporters argued some companies wanted to, but needed the registry to provide documentation to insurance companies.
Graham Bailey, vice president of communications for Blue Cross Blue Shield of Kansas, said that was not a major sticking point. Instead, he said, state law simply doesn't allow policies that include domestic partners to be sold to small Kansas businesses.
Bailey said Blue Cross Blue Shield supports that law.
"It is not something insurance companies want to do," Bailey said. "It certainly is not something we want to do."
The state law applies to group policies that cover 50 people or fewer, Hanson said. The state law "appears" to limit the definition of dependents to spouses and children, Hanson said.
National companies
But there are companies operating in Kansas that provide health benefits to domestic partners. That's because large group policies - covering more than 50 people - can provide coverage to domestic partners. Some policies also are regulated by federal guidelines, not the state's law.
A national gay and lesbian rights Web site lists at least 20 national companies that have a business presence in Lawrence as offering health insurance to domestic partners.
But it was unclear Wednesday how many of those companies require employees to be part of a domestic partnership registry to qualify for the health insurance.
Bailey said Blue Cross Blue Shield has less than a dozen large group policies that cover domestic partners. But he said the company will not accept the Lawrence registry as proof of a valid domestic partnership. Instead, the company requires affidavits be signed.
"We would never do that," Bailey said of relying on the registry.
Bailey said that is partly because the city of Lawrence does not take any responsibility to check the veracity of any of the information people submit to the registry.
Toni Wheeler, director of legal services for the city, confirmed that's the case. The application does require applicants to confirm they are making truthful statements, but the city ordinance does not provide any specific penalties for people who are found to have lied to get on the registry.
'There is a true need'
Bailey said that's one of the reasons the company generally opposes the idea of covering domestic partners. He said he can imagine a situation where a domestic partnership is created simply because someone sees a person who is ill and in need of health insurance.
"They say, 'we'll just join the registry,' and you can get right on and get all these services," Bailey said. "That would be very detrimental to holding down the costs of health insurance."
The whole situation frustrates Steve Maceli, owner of a Lawrence-based catering business. Maceli would like to offer domestic partner benefits but hasn't been able to find an insurance company that allows it.
Maceli said the new registry may not help him immediately, but he hopes if enough people sign up, it will show insurance companies that there is a demand for domestic partner coverage.
"I think this registry is going to be a good way for businesses to tell the insurance companies that there is a true need," Maceli said.
Copyright 2018 The Lawrence Journal-World. All rights reserved. This material may not be published, broadcast, rewritten or redistributed. We strive to uphold our values for every story published.