I'm seven months pregnant.
In the euphoric weeks after spotting the double pink lines on my pregnancy test, I signed up for every e-mail newsletter I could find to keep me up to speed on my baby's development, my changing body, the rigors of delivery and all the gear my husband and I would need to care for our new arrival.
Since then, advertisers have flooded my inbox with all manner of clever special offers.
One particularly savvy marketer piqued my interest by wishing me a Happy Mother-To-Be Day - then providing a link to an online baby store where I could purchase gifts for the occasion.
"Wow," I thought. "This is like a bonus Mother's Day, a holiday based on a reality that doesn't yet exist."
These people will do anything to sell greeting cards and breast pumps.
For a moment I appreciated the creativity. Then I was mildly disgusted by the gross capitalism of it all.
But when I climbed down from my mental soapbox, I realized that something genuine lurked in the shadow of the sales pitch.
I may not have a baby yet, but I'm already a mommy.
I base nearly all of my daily decisions on how they will affect the little boy or girl growing inside me.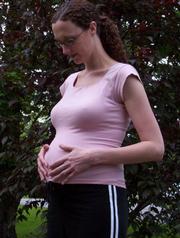 Whether to hit the snooze button one more time to maximize my rest before starting another hectic day. Whether to have leftover blueberry muffins from the weekend or whole-grain cereal with a side of fruit. Whether to resist the temptation to buy a Diet Coke instead of dutifully draining my 32-ounce water bottle three times a day. Whether to ride my stationary bike for half an hour or indulge in a 30-minute sitcom on the tube.
For the record, I've been good, always doing my best to put baby first. (Although dark chocolate sometimes wins the craving tug-of-war!)
I rarely complain about the four trips per night I now make to the restroom, the result of my ever-growing child squishing my ever-shrinking bladder.
In addition to the pile of pregnancy books and magazines I've scoured to the point of memorization, my husband and I read a story to our unborn baby each night. And I'm constantly singing, talking or rubbing my tummy while driving down the road, riding the elevator or cleaning the house, hoping my little one will absorb something - even if it's just a sensation of comfort.
Often while I'm engaged in these behaviors that others might find utterly silly, I think of something my mom used to tell me. She said I'd never understand how much she loved me until I had a child of my own.
Now I know what she meant.
Even though I've only met my baby through grainy sonograms and fetal heart monitors, I'm already head over heels.
I worry when my slumbering companion misses his or her standing appointment to gently kick me awake each morning.
I giggle when he or she gets a case of the hiccups that makes my belly pulsate.
I dream of our baby's eyes and smile, and wonder whether he or she will be shy or outgoing.
On a steamy day in July, I'll finally come face to face with the little bundle who's been dominating my thoughts since that day in early November when a store-bought pregnancy test confirmed what my body already knew.
The rules will change in an instant. That little being will dictate our schedules, alter our budget and help us get over our need for a full night's sleep.
That's the day I graduate from mother-to-be to simply mother.
But I know I've been a mommy all along.
- Arts editor Mindie Paget and her husband, Ryan, are expecting their first baby on July 21.
Copyright 2018 The Lawrence Journal-World. All rights reserved. This material may not be published, broadcast, rewritten or redistributed. We strive to uphold our values for every story published.