Caring mom pursues career based on her child's struggles
Cheylin Ricley just got a double dose of good news.
For starters, the 9-year-old Lecompton School student found out she won a Mother's Day essay contest.
"And my ducks just had babies, too. My mom just told me at the exact same time," she says.
Ricley lives with her 13-year-old brother, Taylor, her mom, Denise Adelicia Faimon, and a small collection of animals. In addition to the ducks, the family has cats, iguanas and hissing cockroaches - in aquariums, of course.
Ricley says her beloved animals keep her company when her mom is working.
"She works so hard at Payless and then goes to school a lot, and I usually never get time to be with her a lot," Ricley says, adding that she wanted to write the essay to show appreciation for all her mom's hard work.
In addition to being a full-time single mom, Faimon works three 12-hour shifts at the Payless Shoesource Distribution Center in Topeka each week and is a full-time student at Kansas University. After five years, she's graduating this month with a degree in speech pathology and soon will begin a new career as a speech pathologist in a Topeka school district.
Her interest in the field stems from Faimon's desire to help her children.
"Both of my children had speech disorders when they were young, but my daughter was not intelligible at all," Faimon says. "You couldn't understand anything that she said until she was probably 5 or so." Cheylin always kept a good attitude, her mother says, even when other students teased her about her speech disorder.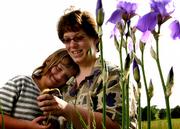 After a few years of taking her daughter to the speech pathology clinic at KU, Faimon decided to stick around.
"'I was like, I'm spending so much time working with her and doing this, I might as well go back to school,'" Faimon says.
Ricley says that even though her mom has a busy schedule, she always makes time to be a good mom.
"Whenever I want something, she'll get it for me. She buys us movies and helps me with my homework, my speech problems and some of my reading," Ricley says.
To Faimon, that praise couldn't come at a better time.
"It's been crazy," she says. "That's why I was glad that she thought I'm a good mother because sometimes I feel like I can't do as much as I wish I could."
'She's special because she's there for me ...'
By Cheylin Ricley
Lecompton School
Mom: Denise Adelicia Faimon
My mom is my best friend. She's special because she's always there for me when I need her, and whenever I have my feelings hurt she helps me sort it out. I miss her when she's at work and I'm at school.
My mom has MS, but she keeps working hard. She goes to work on weekends at a shoe factory. During the week, she's been going to KU so she can be a speech pathologist. She wants to be a speech pathologist because I used to have a lot of speech problems. She will finally graduate in May.
Even though she's very, very busy, she always has time for my brother and me. She plays games with us and watches movies with us and takes us to all our soccer and softball and baseball practices.
I know sometimes she's very tired and doesn't feel very good, but she still makes time for us. No matter how busy her schedule is, she makes us feel like we are important to her. These are the reasons I think my mom is the best mom in the world.
Daughter feels mother's love through actions, not words
Victoria Doll has a hard time saying those three little words.
But that doesn't mean she doesn't love her children.
Doll, who moved to the U.S. from Taiwan for college in the late '70s and later married a native Kansan, says her culture taught her emotional restraint.
"Oriental people, we don't express love by words. We don't say 'I love you' all the time," Doll says. "The way we express love is more about caring and loving and doing things for them."
Doll, who is a librarian at Kansas University's East Asian Library, adds that she relies on her husband to verbalize affection to their children, Jonathan, 12, JoAnn, 15, and Aileen, 17.
JoAnn, who is a ninth-grader at Veritas Christian School, says that she and her mom always have had a tight bond. That bond, coupled with her appreciation for her mom's hard work, inspired JoAnn's Mother's Day essay.
"She has to work and then come home and deal with us at home," JoAnn says. "I love her. I think she's doing awesome. I don't think I could handle that as mom. I'd be like 'Aaah, too much to do!'"
Victoria Doll always has been a hard worker. From an early age, she attended a prestigious all-girls Catholic boarding school in Taiwan that took education very seriously.
"Morning till night we had to study. We studied more than you want to know," Doll says. She says that the night before tests, she and her 19 roommates would pull all-night study sessions. Also, every student had to wear the same starched uniform.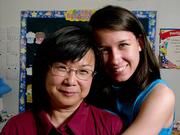 Though Doll's youth was much different than that of her children, it doesn't really infringe on the family's closeness. That doesn't mean her children don't tease her, though.
"There's a cultural difference, and they remind me of that a lot," Doll says. "They say, 'This is the U.S., Mom!'"
JoAnn jokes that she randomly hugs her mom throughout the day to lighten her up about expressing affection. Apparently, it works.
"I'm learning," Victoria Doll says. "I'm still learning daily from my kids."
She not only cares for me, but also inspires me
JoAnn Doll
Veritas Christian School
Mom: Victoria Doll
Being a mom looks difficult. First, you have to carry your baby around for nine months before she's even born. Then after she's born, you have to clean up her messes, feed her constantly and make sure she doesn't chew up every object in sight. When she grows older, you must drive her to her various activities, answer all of her questions and then avoid panicking as she learns to drive. You also must help her prepare for her future by giving her advice on being a woman, wife and mother herself. Furthermore, you must accomplish all of these things without going completely insane.
I'm thankful for my mom because she does all of these things like most moms; however, what makes her special is that she's my mom. She puts up with my ever-changing moods and gives me advice whenever I ask for it. I can tell her my problems, and she'll make them seem less overwhelming. She'll comfort me when I feel miserable and laugh with me when I am cheerful. She still cleans up my messes and patiently corrects me when I'm wrong.
My mom not only cares for me; she also inspires me. She is a hardworking woman at her job and at home, but she still makes time for her family. She is generous, helpful and empathetic to other people's needs. I know that no matter what my age, I'll always look up to her and depend on my mom.
Copyright 2018 The Lawrence Journal-World. All rights reserved. This material may not be published, broadcast, rewritten or redistributed. We strive to uphold our values for every story published.