An entire ocean separates Madeleine Sow from four of her children in Senegal.
The separation is a mother's sacrifice. Someday she hopes to celebrate Mother's Day surrounded by all her children.
"She has spent all of her life taking care of us and doing a lot of things. We have everything a child needs to have," said Sow's daughter, Aida Drame, 27 - one of three children who have already joined their mother in America.
Sow, 54, won a lottery visa in 1997 to move to the United States with her second oldest adult son, Lamine Drame. To do so, she gave up her longtime teaching job in Senegal in hopes she could eventually bring all her children to education and career opportunities in the United States.
"It's a beautiful place," Sow said of her home country. "(But) we don't have a lot of jobs for our kids."
Back then, they spoke French but barely any English. After nine years in Kansas, she now speaks English fluently, is a U.S. citizen and works as a certified nurse's assistant at Lawrence Memorial Hospital.
She has also brought to Lawrence her oldest son, Amadou Diaw, in 2000 and her daughter last summer. Her sons work in the area, and Sow's daughter has learned English and hopes to earn her GED soon.
Photo Gallery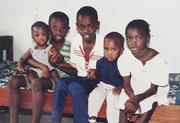 Madeleine Sow and children
Sow is still working to complete the detailed and expensive immigration process for her other children, who are never far from her mind. She sends money home frequently and buys calling cards every week.
"I learn everything for my kids, like sewing, making cake and doing a lot of things for them," she said.
For now, Mohamed Drame, 22, Fode Drame, 20, Daouda Drame, 15, and Moustapha Drame, 14, wait with their father, Sow's ex-husband, while living away from their mother, brothers and sister. One of the children may move to Lawrence next year.
"They are doing OK, but it's not easy when you are not there," Sow said. "The kids are growing up."
Copyright 2018 The Lawrence Journal-World. All rights reserved. This material may not be published, broadcast, rewritten or redistributed. We strive to uphold our values for every story published.