Lisa Fisher isn't one of those last-minute Christmas shoppers.
She picks up gifts and presents for loved ones throughout the year, spacing out her purchases to avoid harried holidays - and a hit to the checkbook.
But the Lawrence resident said fluctuating gasoline prices and rising heating costs might leave a little more space under her tree this year.
"I've spent less this year than I did last year," Fisher said. "I think I'm watching my budget more closely and watching what's going on, kind of being aware that things are changing in the economy, and trying to be careful with my spending."
Gasoline prices dipped below $2 a gallon in recent weeks, prompting thanks among some Lawrence retailers who suffered when the tab topped $3 a gallon. Local merchants are grateful the price drop happened right before holiday shopping started.
"We noticed a drop in our out-of-town customers" when gas prices rose, said Mary Lou Wright, a co-owner of The Raven Bookstore, 6 E. Seventh St., "and I've heard other retailers say that also. We really depend on out-of-town" customers.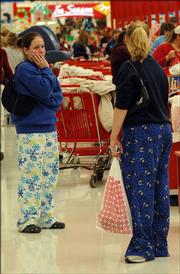 Joshua Rosenbloom, director of the Center for Business and Economic Analysis at Kansas University, said fluctuating energy prices could have an effect on holiday sales.
"If consumers are uncertain about what's going to come up, they'll be more likely to restrain their spending," Rosenbloom said. "That may put some damper on things."
Growing fears, prices
The holiday season starts amid fears that the gasoline prices might spark a round of inflation. The Economic Policy Institute, for example, last month released a report suggesting that one of Hurricane Katrina's effects was to cause the prices of many goods to outpace income growth across the country.
But Rosenbloom, while acknowledging the hurricane fallout, said that pay for many workers is still outpacing inflation.
There is an exception, however.
"For workers at lower-income jobs, inflation is probably outpacing income," Rosenbloom said. "For the nation as a whole, our incomes are rising faster than inflation."
Still, retailers across the country entered the shopping season with some cautious optimism. The National Retail Federation initially forecast that holiday sales would improve 5 percent over last year; this week the organization revised that prediction up to a 6 percent increase.
Photo Gallery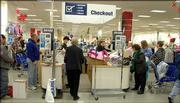 Black Friday
That's why Joe Flannery, the president of Weaver's Department Store in downtown Lawrence, feels optimistic. But he acknowledged that gasoline prices make a difference.
"It always plays a factor in consumer spending when they have unexpected expenses, such as higher energy costs," he said.
Many retailers need a successful holiday season to get through the year.
"For the Raven Bookstore, unfortunately, we don't break even until about a week before Christmas," said Wright, adding that holiday shopping is "extremely important" to her business.
Flannery agreed.
"It's the busiest time of year, so yes it is important," he said. "The economy is generally doing pretty good, so we expect this to be a good holiday season."
Copyright 2018 The Lawrence Journal-World. All rights reserved. This material may not be published, broadcast, rewritten or redistributed. We strive to uphold our values for every story published.