With gasoline prices dipping to $2 a gallon in Lawrence and elsewhere, AAA officials expect today to be the busiest travel day of the year.
"(Gas prices) have come off quite a bit now. So it's psychologically more conducive to travel than a month ago," said James Hanni, executive vice president for AAA Kansas.
Nationwide, AAA expects more than 37 million people to head somewhere this week for the Thanksgiving holiday. An estimated 30 million of them will be traveling by auto.
Hanni said Tuesday that AAA tracked the average Lawrence gas price to be $2.01, 3 cents less than Monday and 40 cents below a month ago, but still above last year's average price.
"In terms of prices - $1.88 a year ago and $2.01 Tuesday - that's not much different compared to what we've been through," Hanni said, referring to the $3.11 per gallon reported in Lawrence on Sept. 7.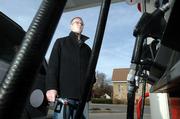 As of last week, the national average had fallen to $2.29 per gallon from $2.74 in the last month. A year ago, the average price was $1.97, Hanni said.
While the higher fuel prices have stung drivers since September, a Kansas University engineering professor pointed to the laws of supply and demand along with the Gulf Coast Hurricanes Katrina and Rita as reasons for the hefty price increases.
Fuel prices annually spike toward the end of the summer when more vacationers hit the road. The typical summer consumption spike lasts several weeks, compared to the few days during Thanksgiving, said Paul Willhite, co-director of the KU Energy Research Center.
"It's going to be a short blip on the consumption curve for three to four days," he said. "It will not be for three to four weeks."
Willhite said the only instances of price gouging that he was aware of were near areas hit by the hurricanes.
Tips for the road
AAA's Hanni encouraged drivers to start their trips earlier in the day to avoid traffic.
He also recommended proper engine maintenance and tire inflation to help attain optimum gas mileage.
The National Crime Prevention Council also offered some holiday tips:
¢ Lock your doors and have a neighbor watch your house while you are gone. On shopping trips, carry only cash and credit cards that you need, and have a plan where to meet your children if they get lost.
¢ Before preparing your Thanksgiving feast, make sure your smoke detector works.
Copyright 2018 The Lawrence Journal-World. All rights reserved. This material may not be published, broadcast, rewritten or redistributed. We strive to uphold our values for every story published.