New York — Hurricane Katrina could cost the insurance industry up to $25 billion in claims, which would make it the costliest storm in the nation's history, according to updated reports Tuesday from risk assessment firms.
AIR Worldwide Corp., a risk modeling firm based in Boston, said its revised projection anticipates insured losses in a range of $17 billion to $25 billion. On Monday, the company said its initial assessments suggested property and casualty losses in a range of $12 billion to $26 billion.
A similar projection came from another firm, Risk Management Solutions of Newark, Calif., which projected insured losses from the hurricane of $10 billion to $25 billion.
That means Katrina could prove more costly than record-setting Hurricane Andrew in 1992, which caused some $15.5 billion in insured losses. Adjusted for inflation, Andrew's cost would be nearly $21 billion today.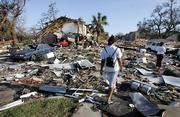 The figures do not cover property that isn't insured, which could add billions to the total. The Insurance Information Institute said that in Andrew's case, the uninsured losses may have approached $16 billion.
Other companies have put out lower estimates for the impact of Katrina on the insurance industry, and all emphasize that data is preliminary because research teams have been unable to get into hard-hit areas to do onsite inspections.
As loss estimates mounted, insurance companies sent teams of adjusters and claims processors to the region to begin dealing with families whose homes were damaged or destroyed in Louisiana, Mississippi and Alabama.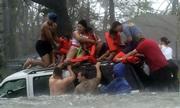 Thomas Farr, a spokesman for GuideOne Insurance Co., which is based in West Des Moines, Iowa, said the company's teams were on the outer edges of the hurricane area and will work toward New Orleans.
"It's not safe there," Farr said of the Gulf Coast city. "You can't get there, and authorities don't want you there. There's nothing we can do at this point."
Both State Farm Insurance Cos. of Bloomington, Ill., and Allstate Corp. of Northbrook, Ill., the two largest issuers of homeowners insurance in the region, both have catastrophe teams ready to move in.
"Obviously, the concern at this point is the loss of human life and the difficulties the people in those areas are going through," said State Farm spokesman Dick Luedke. "We certainly have empathy for those folks."
President Bush has declared Louisiana, Mississippi and Alabama as disaster areas, making residents eligible for federal assistance if they don't have insurance or damages exceed their insurance coverage.
Last year, the four separate hurricanes that slammed Florida and other East Coast states cost insurers nearly $23 billion. The most devastating, Hurricane Charley, racked up insured losses of $7.5 billion last August.
Copyright 2018 The Associated Press. All rights reserved. This material may not be published, broadcast, rewritten or redistributed. We strive to uphold our values for every story published.