They're our fuzzy, friendly companions, and they do crazy — and sometimes heroic — things from time to time. And every year, they end up on the pages of the Journal-World for their sometimes bizarre escapades.
In 2009, readers were treated to the tale of Beans the traveling cat, who hitched a ride in a moving truck and made it all the way to San Francisco. Last year, readers heard about the adventure of a wild deer, who ran loose in downtown Lawrence, jumping through a glass window at Weaver's Department Store to get a closer look at a display of brassieres.
This year has been no different, as an assortment of animals have made news, from heroism to heartbreak. Here's our 2011 animal stories of the year.
• A 2-year-old black cat survived being shot twice after police found the cat inside a trap near a North Lawrence home. A veterinarian was able to remove the one bullet still lodged in the cat. A 73-year-old Lawrence man was arrested and charged with animal cruelty and discharging a firearm in the city limits. His trial is set for Jan. 19, and his attorney said his client has an alibi.
After news stories detailed the story of the resilient cat, the Lawrence Humane Society was flooded with calls from those wishing to adopt the cat, who was by then appropriately named Bullet.
Humane Society staff members say Bullet found a good home and has recovered.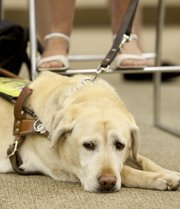 • A tumor threatened the life of Comet, a guide dog for Kansas University graduate student Chikako Mochizuki. In April, after a Journal-World article, community members raised the $6,000 — in less than a week — for surgical costs.
The tumor was removed by veterinarians at Kansas State University. Unfortunately, Mochizuki said the cancer returned in June, and Comet was put to sleep. Mochizuki expressed gratitude for the outpouring of community support and now has a new guide dog, Karra.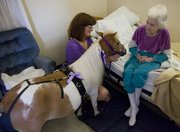 • Ottawa resident Rae Warren began taking trips to area nursing homes but bucked the trend of bringing in a canine friend to visit with the elderly. Warren instead routinely trots in her 4-year-old, 27.5-inch-tall miniature horse, Cindy, who's been a big hit.
"It's all worth it just to see the sparkle in their eyes," Warren said.
Warren said she plans to visit as many area homes as she can find within driving distance of her home.
• A June feature on Lawrence woman Jenn Cole-Hiatt's Revolution Mama Ranch highlighted the story of Whimsy, an exotic, blue-eyed Pied peacock. Scattered about the ranch, where Cole-Hiatt and her family raise exotic and endangered bird species, Whimsy struts about, fanning his colorful feathers.
Described by Cole-Hiatt as a "ladies man," Whimsy splits his time, and his affection, among three girlfriends.
Copyright 2018 The Lawrence Journal-World. All rights reserved. This material may not be published, broadcast, rewritten or redistributed. We strive to uphold our values for every story published.