Jenn Cole-Hiatt hasn't eaten meat in 23 years, yet more than 225 birds roam her farm.
Not one of her birds is destined for a dinner plate. Her chickens are heritage breeds from antiquity, with colorful plumes and elegant bodies.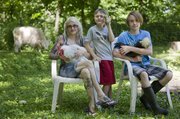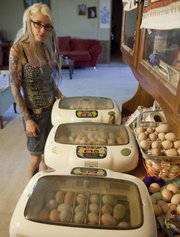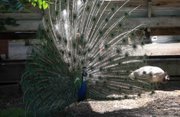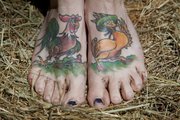 "There aren't very many breeders in the United States who have these birds," says Cole-Hiatt. "They are exhibition-quality birds."
Known on the Web as Revolution Mama Ranch, Cole-Hiatt's bird farm southwest of Lawrence was started seven years ago. She was visiting a friend in Colorado. In the evenings they would sit outside, sip beer and watch a clutch of Indian Runner ducks dash across the neighbor's yard. The sight convinced Cole-Hiatt to buy some ducks of her own. Once she'd broken the seal, her bird collection bloomed rapidly.
"I thought, If I'm going to do this, I'm going to do it in a meaningful, ethical way," says Cole-Hiatt. "So I started looking into rare breeds, breeds that needed help because their numbers were dying in the United States."
Now Cole-Hiatt raises Indian Runner ducks, Silkies, Brahmas and every color of Sussex chicken, to name a few. A backyard barbeque at Cole-Hiatt's farm is not your typical fare. While a batch of vegetarian hot dogs roast on the grill, a bevy of birds — chickens, ducks, and geese — strut across her yard, weaving between people, grazing on feed, honking and clucking in bursts. And as the sun bleeds pink, a blue-green peacock flutters to the roof to roost, fanning his feathers, and letting out a shrill cry designed to attract a mate.
It might be a picturesque scene, but Cole-Hiatt isn't your typical farm girl. She listens to bands with names like Propagandhi, Fleas and Lice and Hatebreed. She wears purple, boxy eyeglasses, there's a snake-bite piercing on her lower left lip, and much of her body is splayed with tattoos as brightly colored as her chickens' plumes.
"I'm always a little nervous when I meet customers with the way I look," says Cole-Hiatt. "But when they realize how much knowledge I have they tend to (warm up)."
Cole-Hiatt is a farm girl at heart. An animal lover to the core, she shelved her New Jersey upbringing to come to Kansas. For two years, she worked as deli manager at a Lawrence grocery store, deep-frying chicken so she could save enough to buy her land.
"It was torture, and I hated it," says Cole-Hiatt.
Fast-forward a few years, and now Cole-Hiatt works from home.
At the launch of the day Hiatt's oldest son, Zaine, 13, releases all of the birds from the 13 pens, letting them stroll the yard. Cole-Hiatt drops her youngest, Phoenix, at school, then comes home to fresh feed and water the poultry and waterfowl pens.
After school, Zaine collects and labels the eggs, making sure everything is full and clean.
"He does get an allowance, but he also understands the ethics of being a part of a family and helping out as a team," Cole-Hiatt says.
At nighttime the birds are trained to come to bed. Hiatt stretches her arms and calls them. Sure enough, they waddle to the pens to slumber safe from predators.
"I have a lot of emotional and financial investment put into my farm, and I will not sacrifice any of my babies for a free meal ticket," Cole-Hiatt says.
By poring through chicken books, Cole-Hiatt taught herself to handle wounded and sick animals. She gives shots if needed and brings birds inside if injured.
Once, one of Cole-Hiatt's roosters, Big John, severed his toe on a piece of wire while she was on vacation. The housesitters didn't notice, but when Cole-Hiatt returned, she instantly detected a difference in the bird: He wasn't walking or eating, and he was warm to the touch. After an emergency trip to Gentle Care Animal Hospital, Cole-Hiatt came home with a list that would save John's life.
"(It included) giving three different kinds of meds two times a day, draining his foot three times a day and soaking and wrapping it fresh every time," she says. "I had to give him nasal treatments twice a day and clean out the bathtub bedding almost every time he went potty.... I did this for almost three months."
She declined to disclose the vet bill, saying her husband would, quote, "kill me."
"It was well worth it to watch him free-range in my front yard with the rest of the Sussex chickens," Cole-Hiatt says. "I will always have a special bond with Big John."
Cole-Hiatt grows emotionally attached to her birds. She knows them all by sight, and many have names: Bob Marley, Johnny Cash, the Bride of Frankenstein. All of them are beautiful, and so colorful, people driving by the farm slow down to take a closer look.
"She has these gorgeous birds that are super rare, and of astonishing color," says Renée Caldwell, a chicken owner who has bought birds from Cole-Hiatt. "It's like a backyard zoo."
Caldwell sells chickens, too. Some of her best stock come from Cole-Hiatt.
"Buck Eyes in a hatchery aren't going to look like Jenn's Buck Eyes," Caldwell says. "She has eggs from highly sought-out lines, so it ends up being what a Buck Eye would have looked like (in the beginning.)"
One example of how Cole-Hiatt's birds differ is her Indian Runner duck. Indian Runner ducks can be short and squatty, but Cole-Hiatt's are tall, slender and as straight a wine bottle. It almost looks like a different breed of duck, but it's actually what all Indian Runner ducks should look like.
"Everything I have on my farm is raised to the original standard," Cole-Hiatt says.
And it's the quality of her stock, plus the attention she pays the birds, that enable Cole-Hiatt to do what she loves for a living.
"It's not even a hobby for me," Cole-Hiatt says. "It's my job. This is how I get to stay at home with my kids."
Copyright 2018 The Lawrence Journal-World. All rights reserved. This material may not be published, broadcast, rewritten or redistributed. We strive to uphold our values for every story published.