Comet the guide dog underwent surgery Wednesday to remove a life-threatening tumor and is on her way to recovery.
And Comet's owner, Kansas University graduate student Chikako Mochizuki, said her beloved companion of nearly a decade is enjoying being pampered as she recovers at the Kansas State University Veterinary Clinic.
Receiving daily updates from staff, Mochizuki said Comet — featured in a Journal-World article last week — has taken to being spoon fed by staff.
"Speaking of a princess," Mochizuki said.
Thanks to an outpouring of community support, Mochizuki said, the $6,000 needed for the surgery has been raised. In addition, she's received emails from people offering rides to visit Comet and even an offer to throw Comet a party when she returns home.
"I'm overwhelmed," Mochizuki said. "I have no idea how to thank everyone."
Though the surgery went well, Mochizuki said Comet still has a long road to recovery.
"It's a slow process," she said.
But she's hopeful and said the strong support helped her get through the tough days.
"The kind thoughts for Comet kept me going every day," she said.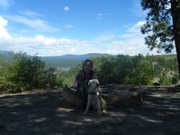 Copyright 2018 The Lawrence Journal-World. All rights reserved. This material may not be published, broadcast, rewritten or redistributed. We strive to uphold our values for every story published.