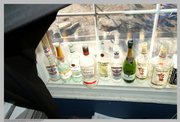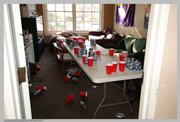 -->
The parents of a Kansas University student who died inside his fraternity house last spring have filed a wrongful death lawsuit against the fraternity and 10 of its members.
Jason Wren was found dead March 8 at Sigma Alpha Epsilon fraternity, 1301 West Campus Road, after a night of heavy drinking.
His parents claim:
• Whiskey, vodka, beer and "beer pong" games were made available to their 19-year-old son and others at the house who were younger than 21.
• SAE and its members did nothing to "deter, prevent or prohibit" underage drinking.
"Jason Wren and other underage SAE pledges were challenged to 'man up' games or 'man challenges' in which they were required to quickly drink large quantities of alcohol. The loser of the challenge was the first person who quit drinking or vomited," the recently filed lawsuit claims.
Fraternity members are accused in the lawsuit of failing to seek medical help for the victim, despite "obvious intoxication and massive head injury."
According to an autopsy, his blood alcohol concentration was .362 percent at the time of his death — more than four times the state's legal limit for operating a motor vehicle, .08 percent. The coroner ruled that Wren died from alcohol poisoning.
Emergency workers were called about Wren's unresponsiveness the next afternoon, when they found him dead in his bunk at the fraternity, where he had lived for fewer than two weeks.
Jay and Mary Wren are seeking more than $75,000 in damages on four separate counts, including breach of contract and multiple counts of negligence.
"It is not about the money, at all," said Stephen Gorny, a Leawood attorney representing the couple in the lawsuit. "They asked the house to go dry, asked for additional steps to be taken, and nothing's happened. So, hopefully this will make (the fraternity) take note and change some of what goes on in there."
Brandon Weghorst, spokesman for SAE's national headquarters, declined comment when contacted Tuesday.
The Wrens say they intend to give an unspecified portion of any award to KU, to help educate students about hazing and alcohol consumption. No court date has been scheduled in the case.
Copyright 2017 The Lawrence Journal-World. All rights reserved. This material may not be published, broadcast, rewritten or redistributed. We strive to uphold our values for every story published.