Photo Gallery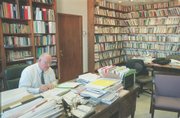 2000-2009: A decade in photos
-->
1. KU football
The Kansas University football season started with promise as the Jayhawks won five straight games. It ended with an internal investigation and the resignation of eight-year coach Mark Mangino.
As the team slid into a seven-game losing streak, reports surfaced of Mangino's mistreatment of players. The athletics department launched an internal investigation in mid-November. A little more than two weeks later, Mangino resigned.
While Mangino's image might have suffered, his pocketbook didn't. He walked away with a $3 million settlement from the university. As part of the settlement agreement, details of the internal investigation remain confidential.
Ten days after Mangino's resignation, KU officially announced Turner Gill as the Jayhawks' new coach. The former Nebraska quarterback who as a coach led the University of Buffalo team to a Mid-American Conference Championship will make approximately $2 million per year.
2. Economic woes
Schools, nonprofits and businesses all shared the burden of a languishing economy. This year, Kansas had to cut approximately $1 billion from what was once a $6 billion budget.
Before school started this fall, the Lawrence school district slashed $2.5 million from its budget and then learned in November that another $3.3 million in state cuts were on the way.

The state's unemployment rate hit a 26-year high by September — 7.7 percent — which caused state officials to worry whether the unemployment trust fund would last through the year.
In downtown Lawrence, around a half-dozen businesses and restaurants closed for economic and other reasons. Among them was Round Corner Drug, the longest continuously operating pharmacy in the state. The building at 801 Mass. will be converted into a restaurant featuring Latin American cuisine.
Meanwhile, nonprofits, such as Bert Nash Community Mental Health Center, saw a drop in funding while demand for their services continued to rise.
3. Gray-Little hired
KU's football program wasn't the only institution on campus to see change. In May, Bernadette Gray-Little was named KU's 17th chancellor. Gray-Little was the provost and executive vice chancellor at the University of North Carolina-Chapel Hill. On accepting the job, she became both the first black and first female chancellor at KU.
Gray-Little replaced Chancellor Robert Hemenway, who in December 2008 announced plans for his departure.
The new chancellor named her top three priorities as increasing graduation and retention rates, raising the level of scholarly research and increasing the amount of private money KU raises.
4. KU alcohol deaths
The deaths of two university students had the school and community taking a serious look at alcohol abuse.
On March 8, 19-year-old Jason Wren was found dead inside his Sigma Alpha Epsilon fraternity house after a night of binge drinking. His blood alcohol content was four times the state's legal limit for operating a vehicle.
A month and half later, Dalton Hawkins, 18, was found dead on April 24 after falling off the roof of a scholarship hall. He, too, had been drinking, authorities said.
In the wake of his son's death, Jay Wren pushed for the university to notify parents earlier when KU discovered a student has a problem with alcohol or drugs.
It was one of several alcohol-related changes the university would make. Others included giving amnesty to students seeking medical assistance for alcohol-related emergencies and requiring all incoming freshmen to take an online alcohol assessment.
5. Jaeger trial
Former Kansas University student Matthew Jaeger was found guilty in three of four charges for beating and kidnapping his ex-girlfriend, Francie Biggs. The verdict came after a two-and-half week court trial that absorbed Lawrence and involved one juror being dismissed for misconduct.
In October 2007, Jaeger entered Biggs' apartment, found her with another man and severely beat her. With a friend driving his car, Jaeger left the apartment with Biggs. When police pulled Jaeger's car over, they found Biggs in the back seat, bleeding from injuries to her vaginal area.
This fall, Jaeger's attorneys filed a motion for a new trial based on the juror's dismissal. Douglas County District Judge Robert Fairchild has scheduled Jaeger's sentencing hearing for Jan. 25. He will rule on the motion for the new trial before handing down a sentence.
6. KU Athletics brawl
Weeks before the start of the KU men's basketball season, players were facing an unusual opponent: the KU football team. For two days, the teams' tussles sparked chatter on campus and online.
On the evening of Sept. 22, more than 100 people were involved in a fight outside the Burge Union. Tyshawn Taylor, a sophomore guard for the basketball team, was sent to the hospital with a dislocated thumb.
The following morning, another fight broke out among a dozen or so players near Budig and Wescoe halls. The brawl started after one player was shoved down a flight of concrete stairs.
The fights put KU in an unflattering national spotlight. KU Athletic Director Lew Perkins and Chancellor Bernadette Gray-Little said they were disappointed in the players' action. Members of both teams later met and issued a joint statement expressing embarrassment of the brawls and support of each other's programs.
7. Sebelius to D.C.
A change in the nation's leadership ultimately translated to a change in Kansas' top political position. Following months of speculation about whether she would fill a position on President Barack Obama's Cabinet, Kansas Gov. Kathleen Sebelius was confirmed as secretary of Health and Human Services in April.
Lt. Gov. Mark Parkinson replaced her. Shortly after becoming governor, Parkinson reached an agreement with Sunflower Electric Power Corp. to build a 895-megawatt coal plant in southwest Kansas. The agreement pushed forward legislation that would promote renewable energy.
8. Bob Frederick's death
The death of former KU Athletic Director Bob Frederick shocked and saddened many in Lawrence and around the country. Frederick died on June 12 at the age of 69, one day after a bicycle accident. Frederick was fatally injured when he rode over a damaged section of Kasold Drive near Sixth Street. He lost control of his bike and struck his head on pavement.
This fall, the 40th annual Octoginta ride was dedicated to Frederick, who had mapped out the course before his death.
9. Homeless shelter move
In hopes of housing more of the city's homeless, the Lawrence Community Shelter announced plans in August to move from downtown to the old site of Don's Steakhouse in east Lawrence.
Earlier in the summer, The Salvation Army closed its 42-bed homeless shelter at 10th and New Hampshire streets. In the wake of that closure, the Lawrence Community Shelter had been turning away people.
In November, the homeless shelter's move stalled when the Lawrence-Douglas County Planning Commission delayed until January a recommendation on whether the 125-bed shelter should be built. Commissioners were concerned with how the homeless shelter would affect neighbors near the East 23rd Street site.
10. H1N1
In April, an outbreak of H1N1, or swine, flu was reported in Mexico. By the end of May, the virus had spread across the border and into all 50 states. To date, 25 Kansans ranging in age from 6 to 75 have died from swine flu.
Cases have been confirmed in Lawrence, including hundreds of students at KU.
On Oct. 21, the Lawrence-Douglas County Health Department held the first community immunization clinic in the state. When the doors opened, 200 people were already in line. The clinic was followed by dozens more.
By mid-December, nearly 17 percent of Douglas County's population had received the H1N1 vaccine. The health department is still holding clinics.

Copyright 2018 The Lawrence Journal-World. All rights reserved. This material may not be published, broadcast, rewritten or redistributed. We strive to uphold our values for every story published.