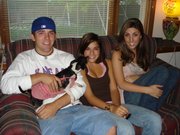 The father of a Kansas University freshman who was found dead Sunday at the Sigma Alpha Epsilon fraternity house says alcohol is to blame.
Jason Christopher Wren, 19, was found dead shortly after 2:30 p.m. Sunday at the fraternity, 1301 West Campus Road.
Multiple officers and paramedics responded to the house after someone found Wren unresponsive, Lawrence police said. Capt. Ray Urbanek said that Wren went to bed Saturday night and did not wake up Sunday morning.
The Shawnee County Coroner's Office in Topeka said Monday that it had completed an autopsy on Wren, but did not release results. Lawrence police said they were awaiting the results.
However, the teen's father said Monday that Jason Wren, a former Arapahoe High School honor student, drank heavily before he died.
"One week of fraternity living killed him," Jay Wren told The Denver Post. "He overdrank. Kids have got to understand alcohol is the worst."
Friends set up a Facebook group in his memory.
Friends from middle school, high school and college all have posted memories and thoughts on the page.
Jay Wren said Lawrence police told him Jason went with friends to a restaurant Saturday evening and drank margaritas. Jason then returned to the Sigma Alpha Epsilon house and had 10 to 12 beers and some whiskey, Jay Wren said.
Jason eventually passed out, and his fraternity brothers put him to bed, his father said. He then stumbled out of bed, and his fraternity brothers put him back in bed.
Brandon Weghorst, spokesman for Sigma Alpha Epsilon's national headquarters, said Jason Wren was a new member, and national SAE staffers were in Lawrence investigating the death, along with SAE alumni who live in the area.
He said Sigma Alpha Epsilon policies warn members to be alert for the signs of overdrinking, and each chapter is expected to adhere to local campus rules and state law concerning alcohol.
Jay Wren said his son moved in to the SAE house a couple of weeks ago after getting kicked out of his KU dorm for drinking and other violations.
Meanwhile, friends in Colorado remembered Jason Wren as a well-liked guy who enjoyed sports.
"I would call him determined, tough, fearless," said Mike Campbell, Arapahoe High assistant principal and varsity football coach. Wren played baseball and lacrosse, and lettered for three years as a defensive back on the school's football team.
"He was a lovable person," Campbell said. "Everyone liked being around him."
Wren, a pre-business major, was a midfielder on the KU Men's Lacrosse Club.
Copyright 2018 The Lawrence Journal-World. All rights reserved. This material may not be published, broadcast, rewritten or redistributed. We strive to uphold our values for every story published.