Since Kansas University Chancellor Robert Hemenway announced Dec. 8, 2008, that he would retire from KU June 30, 2009, the university has been interviewing candidates to fill his position. That search ended Friday afternoon, when the Kansas Board of Regents hired Bernadette Gray-Little as the 17th chancellor of Kansas University.
---
Gray-Little will receive about 25 percent more than Hemenway
Staff Report
03:12 p.m., June 8, 2009 Updated 09:53 p.m.
Biographical Information
Full name: Bernadette Gray-Little
Born: Washington, N.C.
Age: 64, as of May 29, 2009
Family: Husband: Shade Little; two children, one grandchild.
Education: Marywood College, Scranton, Pa.: Bachelor's in Psychology; St. Louis University: Master's in psychology and doctorate in clinical pyschology.
Research interests: Cross-cultural psychology, relation of social and cultural factors to personality, psychopathology.
Salary as Chancellor: $425,000 per year and $25,000 per year in deferred compensation. Of the $425,000, $267,177 is state funds and $157,823 is from private sources.
Academic Experience:
1971-1982: University of North Carolina-Chapel Hill as a psychology professor.
1982-1993: Director, Graduate Program in Clinical Psychology;
1993 to 1998: Chair of the Department of Psychology. 1999-2001: Senior Associate Dean for Undergraduate Education for the College of Arts and Sciences.
2001-2004: Executive Associate Provost.
April 29, 2004-June 30, 2006: Dean of the College of Arts and Sciences.
July 1, 2007-Aug. 15, 2009: Executive Vice Chancellor and Provost
Aug. 15, 2009: Became Chancellor at Kansas University
Photo Gallery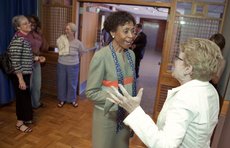 Bernadette Gray-Little is greeted by the community
Photo Gallery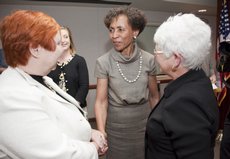 Provost at University of North Carolina-Chapel Hill named KU chancellor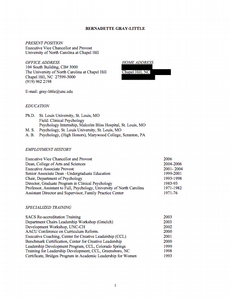 KU selects Bernadette Gray-Little as chancellor
Top stories
More KU selects Bernadette Gray-Little as 17th chancellor
By Andy Hyland
March 14, 2010
By Andy Hyland
July 29, 2009
Incoming Kansas University Chancellor Bernadette Gray-Little will be focused on getting to know the campus and the state upon her arrival at KU.
'I'm learning a lot about the Lawrence campus that I didn't know'
By Andy Hyland
July 16, 2009
Two weeks into her six-week stay as Kansas University's interim chancellor, Barbara Atkinson said she's working to build relationships between two of KU's campuses and pave the way for a smooth transition.

KU

's new chancellor discusses challenges old and new
By Andy Hyland
July 1, 2009
Kansas University's new chancellor talked about budget cuts, sports and her new house in a wide-ranging interview Tuesday. Bernadette Gray-Little spoke by phone from her office in Chapel Hill, N.C., where she will serve as provost of the University of North Carolina until becoming KU's chancellor on Aug. 15.
June 25, 2009
The Kansas Board of Regents on Thursday honored Kansas University Chancellor Robert Hemenway, Kansas State University President Jon Wefald and Pittsburg State University President Tom Bryant, who are all stepping down from their positions.
J-W Staff Reports
June 3, 2009
The Kansas Board of Regents is expected to announce details soon about the salary package for Kansas University's new chancellor and who will lead the university until she takes over.
Gray-Little's influence at North Carolina called 'integral part' of school's history
By Chad Lawhorn
June 1, 2009
On this 216-year-old campus in the heart of the South, there's a low-lying stone table atop the plaza grass. Come to find out, it is much like Kansas University's newly selected chancellor — easy to overlook but extremely meaningful.
By Andy Hyland
11:30 a.m., May 28, 2009 Updated 05:35 p.m.
Prev Next

Find more businesses on Marketplace
Arts & Entertainment · Bars · Theatres · Restaurants · Coffeehouses · Libraries · Antiques · Services