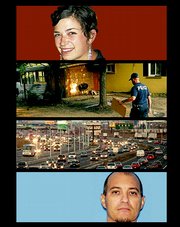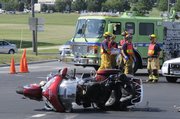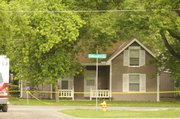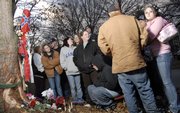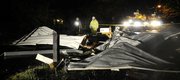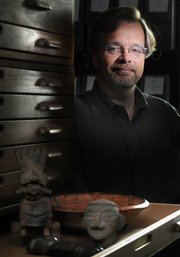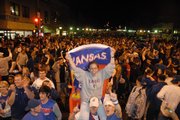 We wrote them, and you clicked them. A lot.
Think KU national championship. Think Delaware Street shooting. Think new machine gun bill?
The top 10 stories of the year on LJWorld.com covered the gamut of time and topic, but proved there's really no rhyme or reason to what you, our audience, like to read about.
It also proved that you're fans of the instantly updated, intensely local information you've come to expect us to provide. And it showed that Google, Yahoo and Fark.com can be a game-changer when it comes to what stories are the most popular.
For instance, that machine gun bill story was a brief item by Associated Press Writer John Hanna. The story got "Farked," and we had 25,000 different people reading the story.
Or take the story "Anthropologist sheds light on movie's premiere." Written by Erin Castaneda, more than 17,000 people clicked on that story after it was picked up by Yahoo News.
Below you'll find the top 10 stories that people clicked on, commented on and sent to their friends. Join the conversation.
10. Police outline events in killing (July 7)

Comments: 84

About five days after Kansas University student Jana Mackey was found dead, Lawrence police outlined the events that led to Mackey's death, the flight of her killer, Adolfo Garcia Nunez, and his eventual arrest and suicide in Elizabeth, N.J.
9. Deadly motorcycle accident causes closure of 23rd and Iowa intersection (July 15)

Comments: 153

An Indiana man was killed when his motorcycle was hit by a semitrailer at the intersection of 23rd and Iowa streets. The heavily trafficked intersection was closed for hours; no charges were filed.
8. KU won't commit to downtown parade for national champions (April 8)

Comments: 177

After winning the school's first national title in 20 years, athletic leaders were at first reluctant to agree to a downtown parade honoring the national champions. Eventually, however, a parade was held.
7. Shooting leaves 2 dead (June 7)

Comments: 164

Two men went to a house to rob a man of money and drugs, according to prosecutors. Only one of three survived and, this month, that man, Kellam Jones, 17, was sentenced to serve more than 14 years in prison.
6. Friends, family pay tribute to accident victim at crash site (Dec. 2)

Comments: 564

A car accident earlier this month left a 19-year-old Lawrence man dead and four other local teens in the hospital. Casey Alan Anzek died after speeding down an icy road and crashing into a tree.
5. Douglas County cleaning up after overnight storm (May 2)

Comments: 164

A major storm hit Lawrence and surrounding areas the morning of May 2, 2008. About 7,000 people were without power after straight-line winds in excess of 80 mph and a tornado in southwest areas of the county moved through. The tornado sirens never sounded, prompting vocal criticism in the community and a change in the county's siren policy.
4. Lawrence police seek 46-year-old man suspected in KU student's murder (July 4)

Comments: 130

Jana Mackey, a 25-year-old KU law student known for her outspoken promotion of women's rights, was murdered. Police were searching for her 46-year-old boyfriend, Adolfo Garcia Nunez, who was suspected in her death. Garcia Nunez had a criminal record. Police eventually tracked the man to Elizabeth, N.J., where he committed suicide while in police custody.
3. Anthropologist sheds light on movie's premiere (May 22)

Comments: 1

When "Indiana Jones and the Kingdom of the Crystal Skull" came out, everyone wanted to talk about it. A KU archaeologist, however, said that the crystal skulls aren't nearly as mysterious as the movie makes out.
2. Sebelius signs machine gun bill (April 22)

Comments: 135

Kansas residents can now own machine guns, other fully automatic weapons, sawed-off shotguns and silencers because of a bill signed into law by Kansas Gov. Kathleen Sebelius. Legislators argued the change was needed to help police departments purchase the automatic weapons and wouldn't benefit criminals as a background check is required for purchase.
1. Self-made champions (April 8)

Comments: A lot

After being down in the final minutes in the KU-Memphis game, an improbable three-pointer by Mario Chalmers tied the score, sending the NCAA National Championship game into overtime — and the Jayhawks came out on top. Tens of thousands of KU fans swarmed Massachusetts Street to celebrate the school's first title in 20 years. Classes were canceled at KU.
Copyright 2018 The Lawrence Journal-World. All rights reserved. This material may not be published, broadcast, rewritten or redistributed. We strive to uphold our values for every story published.