Police seeking help
Police are asking anyone with information about Saturday morning's double shooting to contact the Lawrence Police Detective Division at (785) 832-7650.
Anonymous tips can be left at the Crimestoppers hotline at (785) 843-TIPS (8477).
Photo Gallery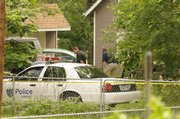 Delaware St. Shooting
Two men died early Saturday morning from apparent gunshot wounds and were found at a home in the 1300 block of Delaware on the city's east side.
Lawrence Police Sgt. Susan Hadl said several Lawrence residents called dispatchers about 2:45 a.m. and reported hearing several gunshots.
But Hadl said it took officers until 3:20 a.m. to find the two dead men. One was on the back porch of a home and the other was inside the residence.
"We don't know if they are residents there," she said.
The sergeant said one of the dead men was 18. She did not have an age of the second man.
"We're trying to piece together what may have happened," Hadl said.
She said weapons were recovered at the scene.
Police continued to talk with area residents and work at the scene of the shootings. Shortly before 9 a.m., a red Acura Integra was towed from 14th Street, near the entrance to the alley that runs behind the crime scene.
"We have made contact with a number of folks in the neighborhood," she said.
Some of those area residents were among several people who initially reported the gunfire to police. Hadl said dispatchers received calls from people who live several blocks from the home on Delaware. That initially made it difficult for officers to find the two victims. Officers talked with area residents, trying to narrow down where the shooting occurred, Hadl said.
Tom Klocke, who has lived in the neighborhood for 15 years, said he was among those who heard the gunshots. Klocke, who was awake and at his computer, said he heard seven rapid-fire shots.
"They were very fast, about like popcorn going off," Klocke said.
Outside, he said, a white car sped quickly north on Delaware, and then turned east on 13th Street.
No information about what led to the deaths was immediately apparent, according to a news release issued by Lawrence Police Capt. Steve Zarnowiec.
The identities of the two men had not been confirmed and will be withheld until relatives have been notified, Zarnowiec said.
"Information is slow to develop at this time as investigators have only the two deceased individuals and the scene itself as the primary information source at this point," Zarnowiec said.
No additional information will be released until Monday morning, Zarnowiec said.
Douglas County Coroner Erik Mitchell arrived at the home Saturday afternoon. The two men's bodies remained at the home for nearly 12 hours.
Neighborhood residents woke up Saturday morning startled to find police had blocked off the 1300 block of Delaware and placed yellow crime scene tape around the house. They were shocked when they heard two people had been shot to death.
Greg Polk has owned property in the area for 25 years and considered it to be a neighborhood on the upswing.
"Any neighborhood goes through a cyclical pattern," he said. "This one was getting new people and people were renovating their homes. It seemed to be a better neighborhood."
Bob and Leda Rose could see police working about a block away from where they were conducting a yard sale. They said they did not hear anything overnight and didn't know about the police activity until they went outside.
"We've lived here 40 years and it has never been a bad neighborhood," Leda Rose said.
Jessica Holeman, who lives across the alley from the shooting scene, arrived home early Saturday and saw red police lights before she went to bed.
"I had no idea what was going on," she said. "I've only lived here a short time. This is kind of unnerving."
Ezekiel and Heather Nance have lived in the area for a year and have found it to be quiet, they said.
"I've heard gunshots before but they were always farther to the east," Heather Nance said.
The last time Lawrence had a double homicide was July 2002. Pete Wallace and Wyona Chandlee, both 71, were shot to death in their home in the 1500 block of Learnard Avenue. Police said the two interrupted a burglary in progress and were shot execution-style.
Police arrested Damien Lewis a few days later. He is serving a prison sentence of at least 158 years for the murders.
The last homicide case in Lawrence occurred in February when Jerry Deshazer, 62, was found beaten to death in his east Lawrence mobile home. Two people, Jerod E. Buffalohead and Shanna R. Friday, are awaiting trial in that case.
Copyright 2018 The Lawrence Journal-World. All rights reserved. This material may not be published, broadcast, rewritten or redistributed. We strive to uphold our values for every story published.