Photo Gallery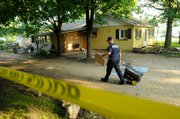 Police outline events of killing

The suspect in the recent homicide of a Kansas University student drove nearly 23 hours to New Jersey last week before police found his former girlfriend's body at his Lawrence home, according to a timeline of events that police released Monday.
"The timeline is meant to provide some understanding of this complex and tragic case," said Capt. Dan Ward.
Jana Mackey, 25, was found dead at the home of her ex-boyfriend, Adolfo Garcia-Nunez, a 46-year-old Lawrence artist who also went by the name Fito Garche.
She likely was killed between 2:30 p.m. Wednesday, when she was last seen in class at KU, and 6:30 p.m. Wednesday, when Garcia-Nunez was seen at a Lawrence convenience store before driving to New Jersey, police said.
Mackey's body wasn't discovered until the next day.
A friend reported Mackey missing at 4:36 p.m. Thursday after she didn't show up to class. About two hours later, Mackey's vehicle was found in the parking lot of Lawrence Memorial Hospital, near Garcia-Nunez's home.
Lawrence Police said they found Mackey's body at 11:07 p.m. Thursday in Garcia-Nunez's home, 409 Mich., after interviewing people the suspect was associated with.
By the time the KU student's body was found, Garcia-Nunez had been in New Jersey about five hours. He arrived there with his 18-year-old son and 19-year-old daughter. The children's mother lives in New Jersey.
"The son and daughter were not privy to what had occurred, fortunately," Ward said. "They were not involved."
About 5:30 a.m. Friday - about a half-hour after police asked for the public's help in finding Garcia-Nunez and his white Ford F-150 pickup truck - Garcia-Nunez's unoccupied truck was discovered in Elizabeth, N.J. Within hours, four Lawrence Police detectives were on a plane to New Jersey.
About 5 p.m. Friday, Elizabeth, N.J., police located Garcia-Nunez at a home and arrested him on a second-degree murder warrant from Douglas County. About the same time, Lawrence police issued a statement saying Garcia-Nunez's truck had been found. Police would not say where.
While awaiting extradition, Garcia-Nunez hanged himself at Elizabeth police headquarters, where his body was found in a holding cell early Saturday morning, Union County New Jersey prosecutor spokesman John Holl said.
After meeting with Mackey family members Saturday morning, Lawrence police sent out a news release about 1:45 p.m. Saturday about Garcia-Nunez's apparent suicide.
Ward wouldn't provide specifics of Mackey's death, out of respect to her family who told police they don't want to know how she died. He did say Mackey fought her attacker before she was killed.
"There was a physical altercation between the two of them," Ward said. "During that altercation, Mr. Garcia also received some injuries from Jana fighting back."
Also, he said officers found an open can of kerosene at the home during their investigation.
"The fumes had gathered inside the residence," Ward said.
Lawrence-Douglas County Fire & Medical was called, and firefighters determined the kerosene wasn't a hazard.
Mackey was a second-year KU law student from Hays. A celebration of her life will be at 2 p.m. Wednesday at Liberty Hall. Her full obituary appears in the link below.
Copyright 2018 The Lawrence Journal-World. All rights reserved. This material may not be published, broadcast, rewritten or redistributed. We strive to uphold our values for every story published.