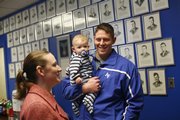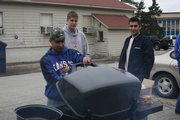 Though about 65 Kansas University Air Force ROTC cadets are leaving the military program in May when they graduate, they are leaving behind new traditions.
On Friday, they began their first Flying Jayhawk Wing Alumni Weekend. They invited alumni to return to their alma mater and the program that shaped them into young officers in the U.S. military.
"It's a good opportunity for us to interact with them (alumni) and to get an opportunity to see what it's like," said Matthew Booth, the cadet wing's public relations officer and KU senior, of working active duty.
The majority of cadets will be commissioned on May 19 and soon after launched into various military careers across the world.
John King III, 22, will go to Goodfellow Air Force Base near San Angelo, Texas, one week after commencement to begin intelligence officer training.
"I feel like we're steps ahead of other college students in terms of professionalism, maturity and integrity," King said. "And we've already got jobs lined up, which is great."
At least three alumni attended a Friday evening barbecue at the Military Science Building on the KU campus.
One of them was Katie Anderson, 27, who graduated from KU in 2004. She is two weeks away from becoming a captain as a logistics officer at Whiteman Air Force Base in Missouri. She said as long as she's just hours away she'll plan on returning for the alumni weekend.
"We've already been to bases, we're all in different career fields, and people of all different ranks can tell them how it's changed," Anderson said. "It's like a mentorship."
She's enjoyed her career so far, she said, because of the travel, interaction with people and the chance to have an "impact on people's lives."
Booth said they may consider moving the alumni weekend to a different time in the future, because they want to attract as many people as possible. This evening, alumni and cadets will have a formal dinner at the Eldridge Hotel.
The graduating cadets are also starting a Jayhawk Alumni Association for Air Force ROTC, which they hope will be running next year, Booth said. They are in the process of gathering alumni information.
Copyright 2018 The Lawrence Journal-World. All rights reserved. This material may not be published, broadcast, rewritten or redistributed. We strive to uphold our values for every story published.