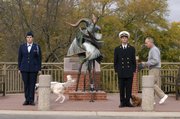 The view facing north on Kansas University's Memorial Drive is a peaceful scene, overlooking a patchwork of red, orange and yellow-leafed trees and the algae-trimmed water of Potter Lake. But panning across the serenity of the hill, a more violent picture develops.
The winding road leads past a collection of memorials honoring KU's veterans of the wars in Vietnam and Korea, and World Wars I and II. On Saturday, ROTC cadets stood guard over two monuments for the officer corps' annual Veterans Day vigil.
The cadets stood in front of the Korean and Vietnam War memorials in one-hour shifts for 24 hours, beginning at 7 p.m. Friday.
At the base of each memorial sat a glass-encased flame, which Air Force cadet Tyler Fry said represented hope for prisoners of war and troops missing in action.
The honor guard spanned all four armed services in what Air Force cadet Garrett Kohl called "solidarity between services."
"I feel like Veterans Day is for remembrance and gratitude for the veterans who have come before us," Army Cadet Mark Anderson said. "This is the least we can do."
Lawrence resident Rob Young said he was driving around and saw the cadets. An amateur photographer, Young lugged his vintage Seneca View camera and tripod to record the vigil in front of the Korean War Memorial. The monument, which consists of four cranes' necks entwined, represents the four countries engaged in that conflict. The crane is a Korean symbol of peace.
"I thought this was striking. I've tried to get pictures of the cranes before and wasn't happy with them," he said. "Having these guys in front of it was striking."
While cadets said one hour was a small price to pay to honor KU's veterans, it gave them an opportunity to reflect upon their service, as well as the sacrifices of those represented by the memorials.
"It gives you time to contemplate," Kohl said, adding, "we haven't forgotten."
Andrew DeGarmo, a Navy cadet, said, "You sit there and think about how (veterans) have changed life for us." He said he hoped his service could have a positive effect for future generations.
Few cars and a handful of pedestrians treaded Memorial Drive on Saturday afternoon, but each time the public passed, the cadets neatly clicked their heels to attention. Despite the sparse crowds, Anderson hoped people would see Veterans Day as more than an opportunity to save money at department store sales.
"I hope they see us and it's a reminder to them about what Veterans Day means and why we have it," Anderson said.
Copyright 2018 The Lawrence Journal-World. All rights reserved. This material may not be published, broadcast, rewritten or redistributed. We strive to uphold our values for every story published.